Adrian J Cotterill, Editor-in-Chief
Daktronics (NASDAQ-DAKT) has partnered with Al Arabia and the Arab External Advertising Company to deliver new LED digital displays for their new 'digital paintings in the streets of the capital' campaign in Riyadh, Saudi Arabia.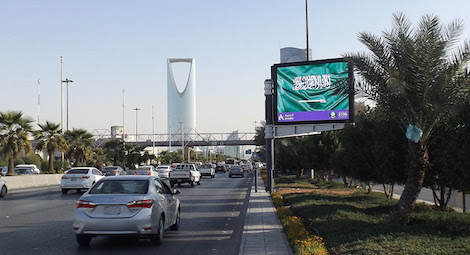 We understand that more than 3,200 square meters of digital displays were delivered in January.
Al Arabia Advertising's CEO Mohamd al Kheraji told us "We had chosen Daktronics between different suppliers for their commitment, continued support and vast experience in the market. Their product matches with our needs for latest technology with unique technical features. It also offers a high-reliability performance to withstand the Saudi weather conditions and harsh environment. Daktronics has offered their latest A/C-free display technology which matches with our design and needs."
The 3-in-1 SMD LED displays were delivered in three different sizes. Some measure 2.93 meters high by 4.02 meters wide, some measure 6.72 meters high by 5.76 meters wide and some measure 2.88 meters high by 3.84 meters wide. All displays feature 10-millimeter line spacing. They bring excellent image clarity and contrast to advertising and the digital paintings which will help beautify the city.