Adrian J Cotterill, Editor-in-Chief
London's two biggest advertising screens will join the nation's Royal Wedding celebrations this Saturday May 19, 2018.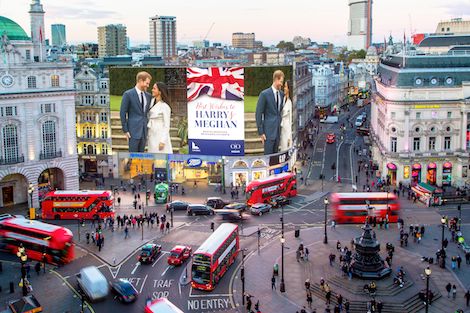 In case readers hadn't heard, Prince Henry of Wales KCVO, familiarly known as Prince Harry, a member of the British royal family, the younger son of Charles, Prince of Wales, and Diana, Princess of Wales, and who is sixth in the line of succession to the British throne is marrying the American actress Meghan Markle tomorrow.
Live broadcast coverage provided by the BBC starts from 11:15am Saturday, as wedding guests and members of the Royal Family arrive at St George's Chapel in Windsor, followed by the ceremony itself and then the lavish carriage procession along the 2.5 mile avenue Long Walk.
A live stream of the big day as it unfolds will also be broadcast on London's biggest full motion retail screen in Westfield Square (operated by Ocean Outdoor for Westfield London). The screen (shown below) measures 21.12m x 10.58m, making it as wide as the BFI London IMAX screen.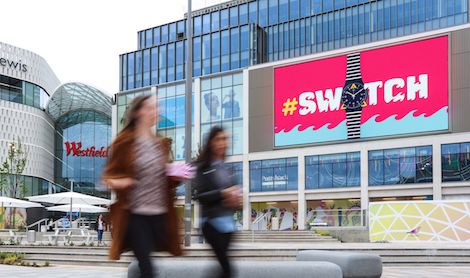 The digital out of home screen sits within the newly-opened Westfield Square, an outdoor events space at Westfield London. To mark the occasion, the Square will host a number of Westfield retailers celebrating in style with complimentary sampling and limited edition offers, with the audience seated in deckchairs.
An image from the highly anticipated wedding will also feature on the iconic Piccadilly Lights which are owned by Landsec.
A photograph of the newly-weds accompanied by a message of congratulations will be displayed on the large format curved screen for 40 seconds twice an hour from Saturday afternoon until Sunday evening.