Adrian J Cotterill, Editor-in-Chief
Kinetic is helping build World Cup fever in the UK with the launch of a major national advertising campaign for radio network talkSPORT.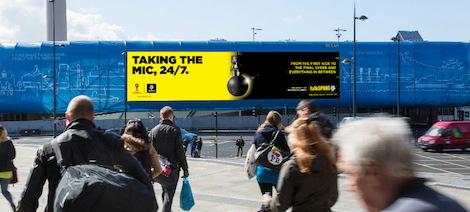 The digital-only campaign launched June 14 to coincide with the official opening of the FIFA World Cup 2018 in Russia (ending on June 28). The campaign will run throughout the group stages of the tournament and will highlight talkSPORT's All Day & All Night proposition and the station's live coverage of every single World Cup match.
Tina Finch, Marketing Director at talkSPORT, told us "The World Cup is a monumental event for football fans across the country and, as a broadcast medium, Out-of-Home is well-placed to convey the excitement and drama of listening to the world's biggest sporting event live on talkSPORT. Not only that, using Kinetic's digital tools we can deliver daily updates to drive excitement through a very live and relevant campaign. For the millions who want to tune in as the tension builds during the group stages, this approach reasserts that by listening to our coverage, you can be part of the pitch-side drama whenever and wherever you are."
Using DOOH.com's D:Four content management system, creative executions will be updated on a daily basis, encouraging football fans to tune in and listen live as teams compete to make it to the tournament's knock-out stages.
Cameron Chaundy, Account Manager at Kinetic, said "With this digital campaign, we're doing our bit to bring football home for talkSPORT, which is going to be a lifeline for fans who want all the live action from this year's World Cup. Digital Out-of-Home is the perfect vehicle to deliver cut-through and brand fame among an active urban audience."
The campaign will target in-car audiences via large format digital screens at roadside locations in major cities across the UK, including Birmingham, Liverpool, London, Manchester, Newcastle and Nottingham. Commuting audiences will be targeted on their morning and evening journeys via digital six-sheet screens across the rail network.