Adrian J Cotterill, Editor-in-Chief
Japanese sushi and bento restaurant chain, Wasabi who we understand used their own in-house digital signage solution on early trials have now chosen Signagelive to digitise its menu boards across seven of its London locations.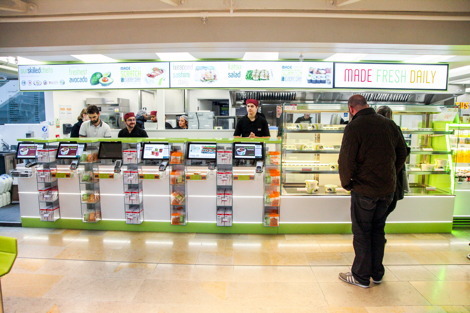 Aferdita Qesku, Director of Sales, Signagelive told us "It's simple to maintain, cost effective and a time saving solution. The end result for Wasabi is a representation of how careful consideration of client requirements and technical understanding of both hardware and software has come into play to deliver on client needs. Pioneer have worked with Signagelive now for a good few years and it shows in all of their client integrations".
Pioneer Group installed all of the displays across five of Wasabi's concession stores in partnership with Marks & Spencer and two Wasabi stand alone stores and specified LG's 86" 86BH5C Ultra Stretch displays across the majority of locations, installed in pairs in a landscape formation or back-to-back with a single portrait display in the new store at West One Shopping Centre. West One's counter features a six screen 47" LG 47LV35A narrow bezel video wall, while the Pantheon Oxford Street Marks & Spencer store features a smaller three screen 43" LG 43SM5KD display.