Russ Curry, Ministry of New Media
We'll be continuing all the good work done in Europe with regard Automation, Programmatic Buying and Marketplaces in the OOH space with our next CITY BRIEFING on the topic, taking place in Amsterdam on Wednesday November 28, 2018.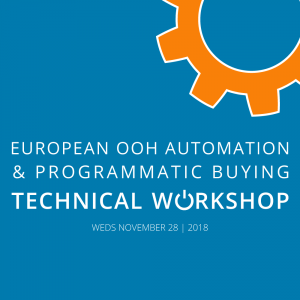 It will be a full day 'European OOH Automation & Programmatic Buying Technical Workshop' and will be chaired by BroadSign's Vice President Business Development Stephanie Gutnik.
In a very slight change to an already well-established and successful format we will be mixing up panel discussions with a couple of more traditional presentations this time around.
We aim to cover Tiered Pricing Structures, Demand Side Platforms, the impact on Agencies and Brands, as well as a number of 30 Minute Case studies. We also hope to have an exclusive look at JCDecaux's new Automated Planning and Trading platform VIOOH and we will also be having a sell side study including Beyond Outdoor and two of the other the big media owners in the Netherlands.
In 2016, our first workshop on the subject on hand took place as part of London Digital Signage Week on Wednesday May 18, 2016 in the lecture theatre of the world's largest law firm, Dentons UK MEA LLP. During the 2017 London Digital Signage Week, a Programmatic Buying & Marketplace Workshop took place n Wednesday May 10, 2017 again in a Denton's lecture theatre. In late 2017 we ran in conjunction with BitPoster and BroadSign another half day event, 'OOH / DOOH Programmatic, Automation and Data' which took place on Thursday November 30, 2017 in London at CHI & Partners.
We followed up all three of these half day events with our first ever (and completely SOLD OUT) 'European OOH Automation & Programmatic Conference' which was held May 3, 2018 during the last London Digital Signage Week.