Russ Curry, Ministry of New Media
Next week, just over 100 people will gather in Amsterdam for our full day 'European OOH Automation & Programmatic Buying Technical Workshop' taking place Wednesday November 28, 2018.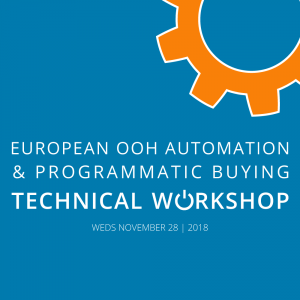 It's an event that will be chaired by BroadSign's Vice President Business Development Stephanie Gutnik and kicks off at 10:00 CEST, allowing attendees from the UK, Eire, Italy, Portugal and Spain to fly in and out in one day if need be, and for those Continental Europeans lucky enough to have access to a super fast, luxurious train network, to also get in early that morning.
We will be mixing up panel discussions with a couple of more traditional presentations.
The full agenda can be found here but features Exterion NL, Outmoove, Kinetic Worldwide, Platform 161, OMD Nederland, Interbest, Adform, MediaMath, Mediacom, LiveDOOH, VIOOH, Ströer, Ayuda Media Systems and Hivestack.
The workshop is being held at the B.1 Amsterdam, Johan Huizingalaan 763a, 1066 VH Amsterdam which is a short distance from Amsterdam's Schiphol Airport (approximate 25 mins by train) and a similar distance from Amsterdam Centraal train station (approximately 30 minutes).
Registration can be found here.
In 2016, our first workshop on the subject on hand took place as part of London Digital Signage Week on Wednesday May 18, 2016 in the lecture theatre of the world's largest law firm, Dentons UK MEA LLP. During London Digital Signage Week in 2017, a Programmatic Buying & Marketplace Workshop took place on Wednesday May 10, 2017, again in a Denton's lecture theatre. In late 2017 we ran in conjunction with BitPoster and BroadSign another half day event, 'OOH / DOOH Programmatic, Automation and Data' which took place on Thursday November 30, 2017 in London at CHI & Partners.

We followed up all three of these half day events with our first ever (and completely SOLD OUT) 'European OOH Automation & Programmatic Conference' which was held May 3, 2018 during this year's London Digital Signage Week. We've built these events slowly and methodically and now firmly believe that we have a winning formula, having created the only OOH discussion forum for this subject in Europe!