Russ Curry, Ministry of New Media
Just in time to mark the start of summer, the award-winning Digital Arts program administered by MTA Arts & Design has unveiled its fifth digital artwork at the busy Fulton Center Transportation Hub in Lower Manhattan. Titled 'Skyyys' the new video installation by interdisciplinary artist Dave Greber playfully mimics the constant stream of visual information that we all experience daily. He remixed recognizable, colorful kinetic objects into an entertaining and witty new universe of familiar objects such as balloons, bouncing balls and stuffed animals.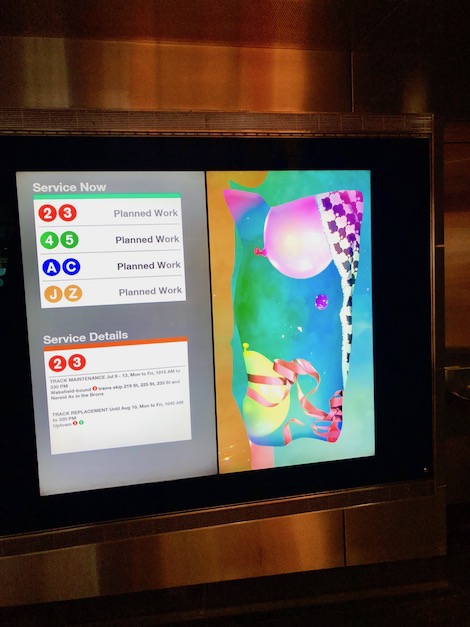 Sandra Bloodworth, director of MTA Arts & Design told us "Dave's fun and inventive digital work featuring objects often associated with childhood and play gives additional dynamism to the mixed use elements of Fulton Center — its myriad shops and this vital transportation hub. The energy and mixture of colors, stuff and patterns are simply joyful."
The fluid pace, whimsical imagery, and prismatic palette of Skyyys™ creates harmonious visual-music that complements the pace of commuters at Fulton center, a likewise kaleidoscopic space of transition as riders make their way throughout the busy subway hub served by the 2 3 4 5 A C and J lines. Skyyys was created using the artist's unique approach of filming carefully constructed sets that are then re-envisioned as entertaining digital worlds. Greber's work across mediums references ideas of pop culture, advertising and spirituality, generating a mystic reading of contemporary society using video and sculpture.
The immersive, captivating videos air simultaneously for two minutes at the top of each hour on 52 digital screens throughout the Fulton Center complex and the Dey Street pedestrian tunnel that connects multiple New York City Transit lines to the World Trade Center PATH station. The Westfield Fulton Center network synchronizes 44 LCD video walls, totaling more than 1,200 square feet and nine locations of LED screens, totaling more than 2,100 square feet. The complex media network plays in one and two-minute loops, offering news feeds, sports, weather, advertising, transit information and digital art. The MTA Arts & Design Digital Art program is presented with technical support from Westfield Properties and ANC Sports.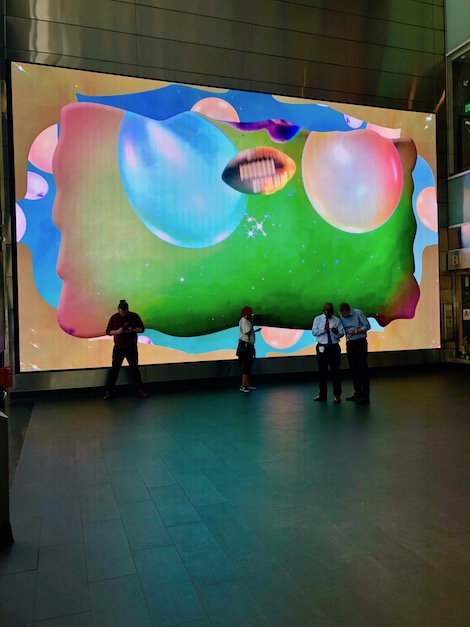 Yaling Chen, Deputy Director and leader of the Digital Art team at MTA Arts & Design said "The network at Fulton Center is a unique palate for new media artists, and the back end synchronization allows the content to be displayed as designed. Dave worked with our team and our partners from Westfield Properties and ANC Sports and the outcome exceeded his expectations,"
Skyyys™ will be on display through fall 2018.
Dave Greber (b. 1982, Philadelphia) is an installation and video artist who addresses concepts of spirituality, marketing, and pop culture through his work. Greber creates vibrant, quirky, revelatory images and installations using a combination of video-loops, sculpture, and painting. Dave Greber studied at Temple University, Universiteit van Amsterdam, and Tulane University. After a stint as a filmmaker/freelance commercial video producer, he found his calling in the contemporary art resurgence of post-Katrina New Orleans, creating video loops and site-specific multimedia installations. His work has been featured in museums and galleries including the Whitney, Crystal Bridges, Minneapolis Institute of Art, C24 Gallery, and Staten Island Arts' LUMEN Festival.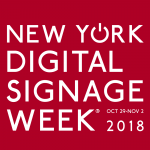 Thanks once again to the DPAA, the official hotel for New York Digital Signage Week is New York's iconic Roosevelt Hotel, known as the 'Grande Dame of Madison Avenue'. A limited number of sleeping rooms have been reserved at a preferred rate for delegates attending any event during New York Digital Signage Week. New York Digital Signage Week takes place October 29 – November 2, 2018.