Russ Curry, Ministry of New Media
DPAA, the leading global organization for everything digital out-of-home has announced its agenda for its annual Video Everywhere Summit, to be held at the iconic Roosevelt Hotel in New York on Tuesday, October 30 as part of New York Digital Signage Week (October 29 – November 2, 2018).
Once again, the event (easily the biggest event in terms of attendance during the week) will bring together more than 900 delegates representing brands, agencies, digital out-of-home networks, ad tech, mobile/location companies, data firms and others from the full spectrum of multi-screen advertising.
The Video Everywhere Summit is globally, the largest one-day event dedicated to multi-screen engagement, mobile/location data and the role of DOOH advertising in today's fast evolving media ecosystem. Barry Frey, DPAA President & CEO, will lead the Video Everywhere Summit – no doubt in his own imitable style!
8:00 am Registration and Networking Breakfast
9:00 am Welcome to the DPAA Global Video Everywhere Summit
SPEAKERS: Barry Frey, President & CEO – DPAA
09:40 am Opening Discussion: "Frenemies: The Epic Disruption of the Ad Business (And Everything Else)
SPEAKERS: Ken Auletta, Author, Columnist – The New Yorker
10:00 am Advertising and Political Messaging: Brands, Consumers, Politics and Voters
SPEAKERS: Frank Luntz, Pollster and Founder – Luntz Global
10:30 am Coffee and Networking Break
11:00 am
SPEAKERS: Denise Karkos, Chief Marketing Officer – TDAmeritrade
11:30 am AR Kills the Video Star
SPEAKERS: Alicia Hatch, Chief Marketing Officer – Deloitte Digital
12:00 pm
SPEAKERS: Becky Brown, VP, Global Marketing & Communications, Dir, Digital Marketing Group – Intel
12:30 pm DOOH Programmatic: The State of the Industry
SPEAKERS: Andreas Soupliotis, Founder & CEO- Hivestack
12:45 pm Networking Lunch
2:00 pm
SPEAKERS: Jeff Brooks, Chief Marketing Officer – Casper
2:30 pm Fireside Chat: Multi-screen consumption: No Longer a Revolution
SPEAKERS: Kristina Lutz, President, Investment – Starcom; Juliana Wurzburger, Sr. Manager, Media Strategy & Partnerships – Samsung
3:00 pm Fire your CMO: Marketing's Future will not resemble its past
SPEAKERS: Terry Kawaja, Founder & CEO – Luma Partners
3:30 pm Location Data Patterns and the Mid-Term Elections
SPEAKERS: Eric Hadley, Chief Marketing Officer – GroundTruth; Roy Schwartz, Co-Founder & President – Axios
3:45 pm
SPEAKERS: Anush Prabhu, Chief Strategy Officer – Mediacom;
4:15 pm
SPEAKERS: Sean Peters, Chief Operations Officer – Zenith;
4:35 pm Data Panel
SPEAKERS: TBA
5:15 pm Closing Case Study, TBA
SPEAKERS: TBA
5:45 pm Close
Barry Frey, DPAA President & CEO, told us "Our Video Everywhere Summit has established itself as the industry's signature event for anyone interested in all aspects of multi-screen advertising. This year's Summit will once again offer a dynamic agenda that will reflect the energy of the digital out-of-home space and New York Digital Signage Week. We will present a full day of lively and informative discussions that will provide actionable takeaways for delegates".
The event, once again, features a small experiential exhibit hall, sponsored by Intel, where DOOH networks and technology companies will display the latest in digital out-of-home content and tools to reach on-the-go consumers.
Summit sponsors include Adomni, Adspace, AMI, Ayuda, BevTV (Sellr), BroadSign, Captivate, Cheddar TV, Curb Taxi Media, Digital Billboard Network, DOmedia, Enlighten, Frontrunner Technologies, GSTV, HERE Technologies, HEROFi, Hivestack, Intel, IPONweb, itell.io, Intersection, Lamar Advertising, Linkett, LiveDOOH, Measurence, MFour, Michelman & Robinson LLP, M-ND, Nielsen, Reflect Systems, Rouge Media Group, Screenvision Media, Simpli.fi, SignKick, Simon Malls, The Chive, Trueform Digital, Ubimo, Vistar Media, Vsblty, Westfield and Zoom Media.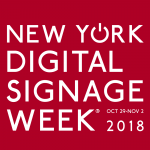 Registration is now open.
Thanks to the DPAA, the official hotel for New York Digital Signage Week is New York's iconic Roosevelt Hotel, known as the 'Grande Dame of Madison Avenue'. A limited number of sleeping rooms have been reserved at a preferred rate for delegates attending any event during New York Digital Signage Week.