Russ Curry, Ministry of New Media
The DailyDOOH Investor Conference (now in its thirteenth year) once again takes place slap bang in the middle of New York Digital Signage Week, on Wednesday October 31, 2018.
The conference will be chaired by DailyDOOH Editor-in-Chief Adrian J Cotterill who has a history of organising and moderating some of the most popular and successful industry events during the past decade.
08.15 Registration & Breakfast
09.00 Opening Remarks Adrian J. Cotterill
09.30 A Year of Industry M&A | Stephen Nesbit | Managing Director | Prestonwood Trail Holdings
10.15 Darren Glatt | Partner | Searchlight Capital and Joe Zawadzki | CEO | MediaMath – In Conversation with Chair Adrian J. Cotterill
10.45 Networking and Coffee
11.15 Self Service Billboard Advertising | Jourdan Przybyla | Vendor Strategist | AdSemble Inc.
11.45 Board Level Discussion on Digital Out of Home – Andrew Miller | VP, Innovation and Product Engagement | OUTFRONT Media; Dafna Sarnoff | CMO | Intersection; Candice Simons | President | Brooklyn Outdoor; Tommy Teepell | CMO | Lamar Advertising  – In Conversation with Stephen Freitas | Chief Marketing Officer | OAAA
12.30 Networking & Lunch
14.00 Paul A. Gajer | Head of Dentons' US Private Equity and Investment Funds Practice | Dentons, Michael Provenzano | CEO | Vistar Media and Andrew J. Armstrong, Jr. | Spire Capital – In Conversation with Chair Adrian J. Cotterill
14.30 Don't Be Like #Digital, Be (Much) Better | Joe Copley | Director, Strategic Partnerships | Seedooh
15.00 Networking & Coffee Break
15:30 What Investors and Media Owners Should Know About Programmatic | Andreas Soupliotis | Founder & CEO | Hivestack
16:00 Why Wouldn't Apple, Facebook, Google or Netflix Become a Billboard Owner ?
16:30 Chairman's Wrap-up
16:45 Reception & Cocktail Party sponsored by Dentons
19.00 Close
This is an intimate and exclusive event for investors and senior executives. As always, it will update investors on the latest trends and the future direction of digital out of home, digital place based media and digital signage and allows them to hear directly from the CEO's of major companies that participate in the market.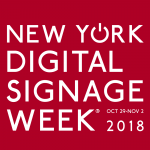 All attendees will receive invaluable executive insight and education on the requirements and trends being used by investors in today's capital raise efforts and come away from the conference having secured a good grasp of the key trends in the industry at the moment.
Thanks to the DPAA, the official hotel for New York Digital Signage Week is New York's iconic Roosevelt Hotel, known as the 'Grande Dame of Madison Avenue'. A limited number of sleeping rooms have been reserved at a preferred rate for delegates attending any event during New York Digital Signage Week.