Adrian J Cotterill, Editor-in-Chief
The Outdoor Advertising Association of America (OAAA) and its members have initiated a national out of home campaign designed to inspire and excite the ad industry about OOH's power, value, and significance in today's digital world.
#GetOutofHome will run across more than 50,000 OOH sites, including 27 digital screen networks, in 30 major US markets, in the coming weeks.
Created by Publicis New York, the campaign features ad industry icons, young creative thinkers, and social media influencers touting the value of OOH as a great media amplifier. As part of the activity, a real-time Digital OOH campaign will run alongside Advertising Week NY (October 1-4) inviting attendees to engage in the conversation via the hashtag #GetOutofHome.
Josh Horn, Creative Director, Publicis New York, commented, "OOH has become the ultimate stage for brands to get their message seen. It's contextual, measurable and responsive. We wanted to celebrate its power to amplify today's best campaigns."
Produced by Grand Visual, the dynamic creative will include live commentary, tweets, and Instagram posts published direct to digital screens across New York City.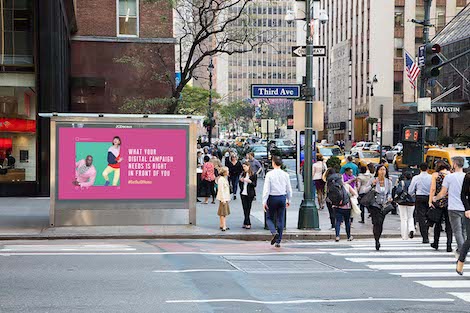 Stephen Freitas, OAAA's chief marketing officer told us "Today's advertising creatives and media planners grew up with the internet in the palm of their hands; they get digital media and push it forward," said "We want to show them some ideas are too big to stay trapped online. Bold ideas need a bold platform."
OAAA members are supporting the campaign in several ways. OOH media and production for the campaign have been donated by Adams+Fairway, Barrett Outdoor, Captivate, Circle Graphics, Clear Channel Outdoor, Cleveland Outdoor, Coastal Outdoor, Curb, DDI Media, Do It Outdoors, Eye Corp Media, Intersection, Interstate Outdoor, JCDecaux, Lamar Advertising, Link Media, Mile High Outdoor, Norton Outdoor, OUTFRONT Media, Pacific Outdoor, Park Outdoor, Porter Advertising, Signal Outdoor, Streetblimps, Total Outdoor, Vector Media, and YESCO Media.