Russ Curry, Ministry of New Media
Next year's FEPE's 60th Annual Congress which will be held in Dubai, May 1-3, 2019 is now open for registration AND the Keynote Speaker has been announced – a certain Jean-Charles Decaux.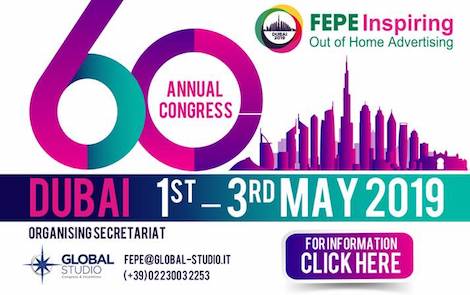 As we've noted before the congress is a little earlier than its usual June time slot and does help make the month of May an attractive, yet busy month for all things OOH, DOOH and Digital Signage related!
The theme of this year's Congress is 'The Fame Game' and it will be held at the Intercontinental Hotel in Dubai from May 1 to 3, 2019.
Jean-Charles Decaux will deliver his Keynote Address on the morning of May 2. Other speakers, including representatives from Out of Home companies, specialists, media and ad agencies and leading advertisers, will be announced shortly.
Tom Goddard, FEPE Presidenttold us "We're delighted to welcome Jean-Charles Decaux as our Keynote Speaker at FEPE's 60th anniversary Congress in Dubai. Next year's Congress will have more of an international flavour than ever, reflecting FEPE's stature as a truly global body. Jean-Charles is uniquely placed to describe the challenges and opportunities the industry faces as it navigates a rapidly changing worldwide media marketplace".
"In 2018 our Congress in Sorrento attracted over 400 delegates from all over the world, including our biggest ever representation from China. Dubai has been chosen for our 60th anniversary Congress to underline the worldwide stature of the Out of Home industry and FEPE's role in representing that to governments, legislators, advertisers and agencies of all kinds at a time of major changes in worldwide advertising and marketing arena. Our speakers and exhibitors will also bring delegates right up to date on the numerous technological developments which are changing the Out of Home industry on almost a daily basis. Like any other major medium, we are in The Fame Game, helping advertisers to reach the people they want with maximum impact and cost-effectiveness. FEPE 2019 is an essential event for the Out of Home industry worldwide and we look forward to welcoming even more old and new friends to what will be our biggest and best Congress to date."
London Digital Signage Week will take place May 13-17, 2019 and the week after that, i.e. week beginning May 20, 2019 sees the OAAA/Geopath National Convention and Expo in Las Vegas (May 20-22, 2019).
Already announced for London Digital Signage Week are the following: –
Global Digital Signage Conference on Tuesday May 14, 2019 at etc.venues (same venue as this year)
European #OOH #ADTECH Conference on Wednesday May 15, 2019 at etc.venues (same venue as this year)
European Out of Home Media Summit on Thursday May 16, 2019 at BAFTA (same venue as this year, but being held on a Thursday rather than its usual Tuesday slot)
Dubai, London and Las Vegas are all worth visiting for these events!