Russ Curry, Ministry of New Media
As was done last year, the LG Roadshow has been timed to be in Manhattan during New York Digital Signage Week.
The LG Techtour takes place 07:00- 20:00 on Thursday November 1, 2018. There's an itemised agenda to make sure you don't miss what you want to catch…
7:00 a.m. CHECK-IN & EVENT OPENS
7:00 a.m. – 10:30 a.m.BREAKFAST
9:30 a.m. – 9:55 a.m. BREAKOUT #1 – BLACK BOX 'Endpoint Optimized Digital Signage Solutions'
Jonathan McCune, Director of Product Management, AV & Infrastructure
10:00 a.m. – 11:00 a.m. KEYNOTE – OMNIVEX 'Standalone Digital Signage is Dead'
Doug Bannister, Founder and Chief Technology Officer
See how digital communications can now leverage data and IoT devices to create relevant,
personalized experiences, with the ability for any space to be connected digitally.
11:05 a.m. – 11:30 a.m. BREAKOUT #2 – 22MILES 'Digital Signage and Wayfinding'
Tomer Mann, EVP, SVP of Sales
11:35 a.m. – Noon BREAKOUT #3 – INTUIFACE 'Deeply Interactive Content Creation, Deployment and Management for LG webOS Smart Displays'
Geoff Bessin, Chief Evangelist
Noon – 3:00 p.m. LUNCH
1:00 p.m. – 1:25 p.m. BREAKOUT #4 – TRIPLEPLAY 'One Platform, One Solution – IPTV, VOD and Digital Signage'
Paul Harris, Executive VP
1:30 p.m. – 1:55 p.m. BREAKOUT #5 – USERFUL 'Software is Changing the World of AV-over-IP: Introducing the Next Generation Video Wall'
Rob Miller, VP Product
2:00 p.m. – 2:45 p.m COURSE – "DVLED DEMYSTIFIED"
Gain a new understanding of the intricacies of direct-view LED from Dan Wheeler of LG
(1 CTS Credit)
4:00 p.m. – 8:00 p.m. TOP -SHELF BAR WITH CUSTOM COCKTAILS
DJ Carol C Performance, Mobile Oyster Bar, Passed Hors D'Oeuvres
8:00 p.m. EVENT ENDS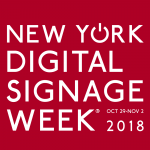 More information and registration can be found here.
It's taking place at …
Metropolitan West
639 West 46th Street
New York, NY 10036
The suggested hashtag for the week is #NYDSW.