Russ Curry, Ministry of New Media
I am not sure who put that man on the front cover but for the second year in a row, DPAA President and CEO Barry Frey has made the front cover of The New York Digital Signage Week newspaper which was distributed earlier this week in Manhattan.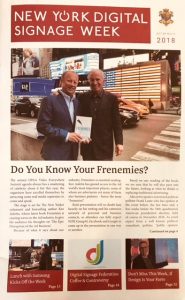 He is shown here with Ken Auletta, Author, Columnist – The New Yorker who will be joining Barry in the Opening Discussion: 'Frenemies: The Epic Disruption of the Ad Business (And Everything Else)' at the largest one day media event of the year, namely the DPAA Video Everywhere Summit, which takes place on Tuesday October 30, 2018.
If you are interested in #DOOH or digital place based media then the #VideoEverywhereSummit is the one event during #NYDSW that you can't afford to miss; 900 + delegates, covering Multi-screen, Programmatic, Location Data, new media models, DOOH, Digital Placed Based media, Ad Tech and more.
All attendees will receive their own copy of DOOH INSIGHTS Volume 7, as well as copies of the newspaper and no doubt, loads of other donated 'goodies'.
We're particularly interested in hearing Ken Auletta and we're also excited that Frank Luntz, Pollster and Founder – Luntz Global is returning to the stage. He was last here a week or so before the US election back in 2016. This time he will be discussing, 'Advertising and Political Messaging: Brands, Consumers, Politics and Voters'.
He's a great speaker, rarely stays on stage and is often off script (if you know what we mean). I hear that he gets all of his best jokes from DailyDOOH editor-in-chief Adrian Cotterill.
All in all, the #VideoEverywhereSummit is shaping up nicely and could easily be one of their best.
There is still time to register, which can be done here.