The Movember Foundation and Quividi, the global leader in audience and content analytics for digital out-of-home have run the first DOOH campaign reacting to the facial hair of passers-by.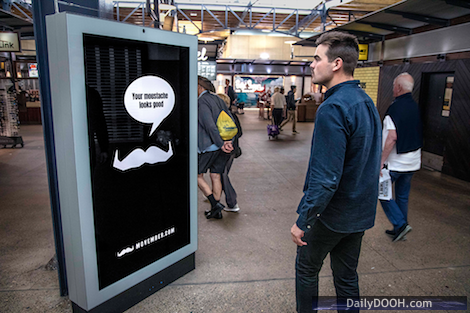 Bearded passers-by were greeted on screen with a specific humorous message ("2016 called, it wants its beard back") whereas moustachioed men were congratulated for their look ("Your moustache looks good"). Passers-by with no facial hair but who smiled at the screen were also served with a triggered, contextualized message ("This smile is a money-maker"). All others saw a generic campaign for the Movember Foundation.
Juliette Smith, Chief Marketing Officer for the Movember Foundation said "We are really proud of this creative campaign that we have collaborated on with Quividi, VMO and Clear Channel UK. The moustache has always been designed to grab attention and start important conversations about men's health and this takes it to the next level. Innovation is really important to the Movember Foundation, as people are increasingly asked to fundraise or donate to charities. It is important we continually trial new technology, in order to help us reach our goals of reducing the number of men dying prematurely by 25% and halving the number of deaths from prostate and testicular cancer by 2030".
All the creative ended up inviting everyone to show support for the Movember Foundation by growing a moustache for the month Movember.
The campaign ran both in Australia in collaboration with VMO, across their retail and service station network, and in the UK with Clear Channel, on their Malls Live Interactive Network.
Louise Stubbings, Clear Channel's Creative Director says "We're exceptionally proud to support The Movember Foundation. They do incredible work to truly change men's health and we relished the opportunity to utilise this technology in our screens to bring this important message to life in a fun way".
Dan Hill, CEO, Val Morgan Group commented "Movember is a great initiative so we're pleased to have played an active role in supporting such a worthy cause. In collaboration with Quividi, we were able to deliver an important health related message to thousands of Australians via engaging, contextually relevant creative".
Quividi's privacy protected technology helps marketers count and classify their audience in real time, broken down by demographics (age, gender), facial attributes (glasses, beard, moustaches) and mood, as well as the opportunities to see, and the viewers' attention time. Brands and advertisers can also use this real-time data to trigger the best contextualized content on screens, against the audience profiles.
The Movember Foundation is the leading charity changing the face of men's health. They're addressing some of the biggest health issues faced by men: prostate cancer, testicular cancer, and mental health and suicide prevention.