Adrian J Cotterill, Editor-in-Chief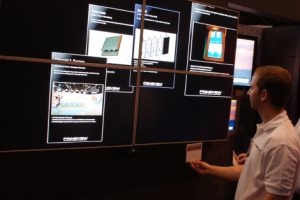 These guys Primeview make screens but we loved their (friend's) bespoke interactive camera system they were showing off also. Camera underneath the screen 'read' a number of cards that you put in front of it, then displayed a tiled window on the display.
You could move the 'card' around and move the window on the display. Flip the card one way and the display window got bigger, move it another way and it disappeared.
Way cool and lots of retail opportunities.