Guest Contributor, Anna Hendley
Automation and programmatic have cemented themselves as real buzzwords in D/OOH. Their mention usually incites fierce debate on who is doing what, how it is best achieved – or whether Online's programmatic model should be followed by D/OOH at all.
In less than a week's time media owners, agencies and adtech companies will delve into the details of this complicated subject in the second full day Automation and Programmatic Buying event, as, thanks to SignKick it travels to Amsterdam on Wednesday November 28, 2018
After chairing a panel at the first workshop in May, the team here at ​Signkick ​were keen to see the discussion brought to Amsterdam. Not only because it's home to our research and development team, but because The Netherlands has shown to be an early-adopter of programmatic D/OOH technology.
Individually, we know we hold some, but not all, of the answers to delivering programmatic and automated trading in D/OOH. The promise it holds for D/OOH will, probably, never be realised by one company or solution. Only when the end-to-end process is completely connected will we realise automation and programmatic trading's full potential at scale.
Next week's event will bring together leaders in this space from The Netherlands, UK and across Europe. So it's an opportunity to be updated on our f​ renemies​ progress, and throw around some buzzwords as we forge next steps for the industry.
For our part in this conversation – and the greater goal of progressing automation – our CEO, Tobias van Amstel will be joined on stage by MediaCom's Head of OOH trading, Arran Javed. Together, we've established a friction-free buy-side connection for media owners to use to automate planning responses and trade automatically, at scale.
Signkick Trading Bridge​ is the force behind this. Using Signkick Trading Bridge, media owners – large and small – can create the same friction-free connection with any automated buyer they choose.
For top tier media owners, whose systems aren't compatible with automated buyers, Signkick Trading Bridge takes care of translations and conversions while implementing business rules, so their trading never misses a beat.
For challenger brands Signkick Trading Bridge provides an easy-to-use sales and booking platform to manage manual and automated orders. Giving them full inventory control and keeping them ahead of the competition.
Connectivity and compatibility are words we hear our media owners struggling with everyday. Using Signkick Trading Bridge, we're able to deliver a simpler, way to automate and connect media owners with their buyers. So they can get on with the rest of the conversation.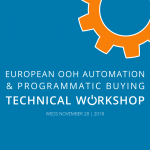 S​ignkick​'s CEO Tobias van Amstel And MediaCom's Head of OOH Trading Arran Javad will be speaking on 'Automation at Scale' to kick off the afternoon sessions.
The full agenda can be found here and features Exterion NL, Outmoove, Kinetic Worldwide, Platform 161, OMD Nederland, Interbest, Adform, MediaMath, Mediacom, LiveDOOH, VIOOH, Ströer, Ayuda Media Systems and Hivestack.