When your brand is all about flavor and your company slogan suggests you 'Bring the Joy of Flavor to Life' you best display a bit of this 'spice' when visitors enter your new USD 170 million headquarters.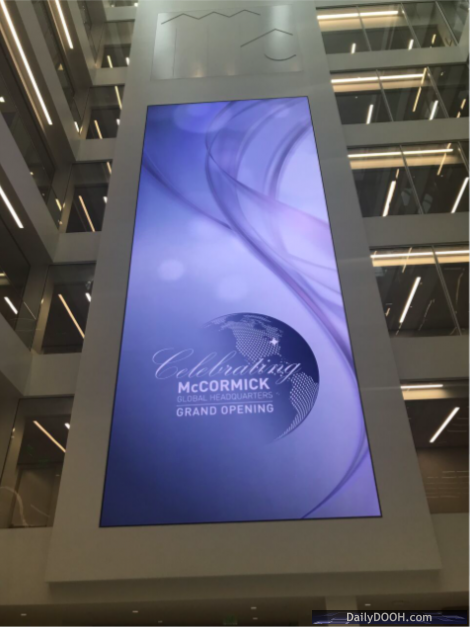 Global spice manufacturer McCormick & Company recently turned that task over to NanoLumens, award-winning creators of uniquely compelling interactive LED visualization solutions, a company that knows all about adding some visual flavor to open spaces.
McCormick Company recently opened their new headquarters in Hunt Valley, MD and as their CEO Lawrence Kurzis stated, "We've moved from our very old, stuffy offices, to a sleek, modern structure that shows the kind of innovation the company is proud of."
The company markets and distributes spices, seasoning mixes, condiments and other flavorful products to the entire food industry – retail outlets, food manufacturers and foodservice businesses. The goal with this NanoLumens installation was to add an impactful branding message in the lobby of the new headquarters.
NanoLumens Regional Sales Director, Northeast Dana Michaelis told us "McCormick Company wanted something in their lobby that would have an immediate impact and really leave a positive branding impression. We knew a 4.7mm Performance Series™ LED display would provide the perfect solution."
The challenge for the integrator Whitlock was installing a display that would span four of the building's six floors and be visible as soon as visitors walked into the headquarters. The site's open floor plan features an atrium-style lobby design with an abundance of natural light shining through, with each floor visible as soon as you enter the building. The NanoLumens display is 45' x 18' and stretches from the second floor all the way up to the fifth floor.
The entire building is designed to be Leadership in Energy and Environmental Design (LEED) Gold certified and reflects McCormick's commitment to sustainability and incorporates locally-sourced, reclaimed wood and an indoor green roof with native Maryland plantings. All the furniture in the building is non-toxic, chemical-free, and largely comprised of recycled material, according to the company.
McCormick & Company also seeks to promote composting throughout the building by only providing compostable serve ware to employees and implementing an advanced waste management system.
And NanoLumens has also responded to this demand for more sustainable goods as their LED displays offer environmental benefits such as reduced power consumption, up to 50% reuse of reclaimed materials from previously manufactured goods and easy recycling due to a nearly completely recyclable product.
All this is now part of the all-important first impression the NanoLumens display conveys as visitors enter the new McCormick & Company headquarters. The "joy of flavor" has never tasted so good.