Adrian J Cotterill, Editor-in-Chief
This week, Firefly, that claims to connect people, governments and businesses to build smarter, safer and more sustainable cities – all of this by sticking a digital screen on top of a vehicle, officially launched out of beta and somehow attracted a number of Silicon Valley venture capitalists and angel investors, garnering USD 21.5M in Seed Funding.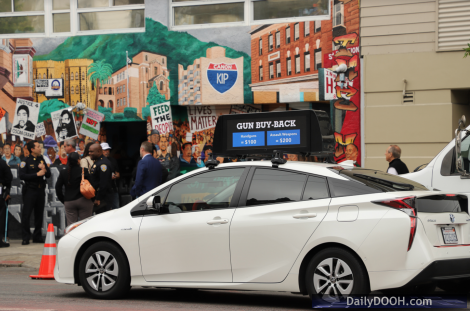 Funding was led by NFX, Pelion Venture Partners, Decent Capital (Tencent founders), and Jeffrey Housenbold (SOFTBANK Vision Fund) with participation from Cross Culture Ventures, Muse Capital and StartX.
Firefly works directly with rideshare drivers to install its proprietary advertising displays atop their vehicles that, it is claimed, can add 20 percent more profit to their drive time. Firefly was founded by Kaan Gunay and Onur Kardesler and is located in San Francisco, CA.
We've heard all the promises before; Firefly works directly with gig-economy drivers to install its proprietary displays atop their vehicles, turning them into geo-targeted, programmable out-of-home advertising stations – that NOT many brands will really want to advertise on!
The founders claimed that not only does this work to offset wage stagnation across the rideshare economy, but it represents a growing exercise of entrepreneurial freedom from drivers to expand their income beyond that earned directly through ridesharing platforms. We are told that the average driver on Firefly's network generates an additional USD 300 per month in free cash flow, effectively adding 20 percent more profit to their drive time.
Once driver, Jackeline Arena of San Francisco said "I have been driving to make money for two years and adding the Firefly opportunity has made it easier to pay university tuition, pay for insurance, and fuel. I am a single mom, so any extra income helps me month to month. I really love the company and the Firefly support staff is awesome to work with, which makes the entire process easier. I love being a Firefly driver."
James Currier, Managing Partner at NFX said "Firefly is unique because they've built a cutting-edge data platform with a human-oriented approach. Building on a series of network effects in their technology, they have a unique opportunity to positively modernize cities and towns by connecting people, governments and businesses. They can be an important piece in building smarter, safer and more sustainable cities, driving social good at the local level".
Firefly say that a minimum of 10 percent of all inventory goes to promote and advertise local not-for-profit organizations, public sector PSAs and other non-commercial entities such as charities, advocacy groups, and community organizations.
The company also works hand in hand with municipal governments to provide information on city mobility conditions and follow best practices in privacy. Its GPS sensors provide granular insight so transportation agencies can make informed decisions and policy. Additional sensors have the potential to address pressing urban ailments like pollution levels, pavement condition and street lighting. The company has also taken a stand on supporting small businesses such as coffee shops, restaurants, and boutiques by allocating an additional 10 percent of unsold screen time to non-chain small businesses.