Adrian J Cotterill, Editor-in-Chief
Suria KLCC Shopping Mall in Malaysia is an impressive six-story shopping experience located at the foot of the famous Petronas Twin Towers in the Kuala Lumpur city centre. Built in 1999, it quickly became not only the talk of the town, but one of the most spectacular shopping malls in the world, featuring a concert hall, an oceanarium, an art gallery and a children's science discovery centre.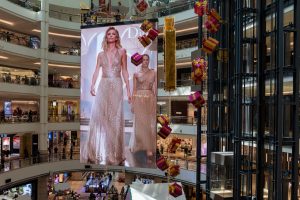 It recently added the world's largest double-sided LED display courtesy of NanoLumens.
This is the company's first-ever installation in Malaysia and features a 19' x 33.5' Performance Series™ 4.7mm double-sided display that rotates 359-degrees, uniquely showcasing many of the mall's upscale consumer brands such as Gucci, Chanel, Calvin Klein, Christian Dior, Ralph Lauren and Apple.
Discussions for this project actually began back in 2016 as Suria KLCC began engaging with NanoLumens after seeing their dazzling installation in neighboring Singapore's Changi Airport that features two state-of-the-art NanoLumens Performance Series LED displays – one of which is an "Immersive Wall" that is approximately 230' x 16' with a 6mm pixel pitch and is one of the largest indoor airport displays in the world.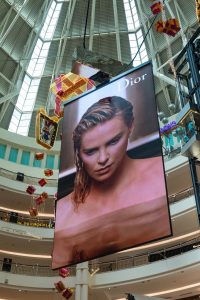 Local Kuala Lumpur integrator EWSB took on this challenging install and agreed that quality, along with delivering a safe solution, would be vital to this install's success. Andy Lee of EWSB told us "The quality of NanoLumens' LED tech was very important to this install as well, as these brands weren't going to tolerate their signature colors being even slightly off," said
EWSB is a Hi-Tech engineering-based company, specializing in LED Facade Lighting and LED Display Boards. The company serves a wide and growing range of businesses, including retail stores, restaurants, hotels, universities and media companies. EWBS has a range of experience in design, supply, install, service & maintenance of LED display boards and LED Facade Lighting.