Adrian J Cotterill, Editor-in-Chief
MediaCart, Microsoft and Wakefern teamed up early in the year and announced they were to deliver a "Next-Generation Digital Grocery Shopping and Ad Experience"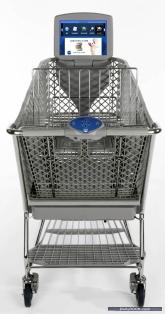 A number of publications have picked up again on the story of the "Wi-Fi Trolley" not least Iain Thomson over at VNUNET who writes "The trolley has a colour screen and uses Wi-Fi to pinpoint itself in the store and has an RFID sensor that is used to flash up offers on shelves. To find an item the user says the name of what they are looking for into a microphone on the trolley handle. Voice recognition software then identifies the item sought"
Personally we can't think of anything worse than the trolley screen in front of you displaying recipes for food whilst you shop (that's what they say it can do) and errr they also say that it flashes up a warning if an item chosen has too much fat in it!
Yeah right that's the way for a Grocer to sell its high value pre-packed meals – "sir / madam please don't buy that, it has far too much fat in it for you"
Another example of technology looking for a marketplace?
Perhaps in this already over complicated life a shopping trolley should just be a (simple) shopping trolley?