Raspberry Pi, multi-award-winning maker of low-cost, credit card-sized PCs, has just opened its first bricks-and-mortar shop [1], in the UK city of Cambridge. In doing so, it joins a number of e-retail giants, including Amazon, who are bucking the trend of high street closures by opening bricks-and-mortar shops.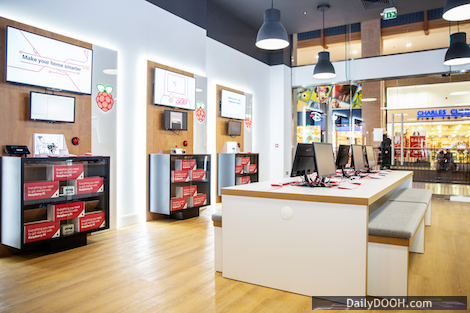 Raspberry Pi's first retail location is designed to be an experiential space, offering an environment in which visitors can try their hand at programming the tiny PCs. Alongside a large range of Raspberry Pi's existing products and merchandise, the new shop will also offer a brand new 'Everything you need to get started with Raspberry Pi' kit; this includes the latest Raspberry Pi 3 Model B+, a complete set of official peripherals, and everything a beginner needs to get started with programming their PC.
Eben Upton, CEO of Raspberry Pi (Trading), told us "Opening Raspberry Pi's first shop, and introducing the new kit, are important steps on our way to achieving broader adoption of our products. Our vision has always been to make low-cost PCs accessible to everyone: the shop provides potential customers with a chance to learn about Raspberry Pi, while at the same time giving us a chance to learn more about their needs. The kit is intended to provide a smoother out-of-box experience for this group of new customers."
"Of course, the shop will also be a great destination for existing Raspberry Pi fans. We have a loyal and highly engaged community, and it's great to be able to offer them another way to interact with us and our products."
The new Raspberry Pi shop is located in Cambridge's Grand Arcade shopping centre, home to over 60 high street and luxury retailers, in the city where Raspberry Pi was founded and is still based. We also understand that from time to time it will have a number of exclusive products from the foundation. The shop only accepts credit cards, no cash.
The Raspberry Pi Foundation is a UK-based charity that works to put the power of computing and digital making into the hands of people all over the world. They do this so that more people are able to harness the power of computing and digital technologies for work, to solve problems that matter to them, and to express themselves creatively. They provide low-cost, high-performance computers that people use to learn, solve problems and have fun. They provide outreach and education to help more people access computing and digital making. They also develop free resources to help people learn about computing and how to make things.