Adrian J Cotterill, Editor-in-Chief
If you know where to look, or who to talk to, then you may know that the date for New York Digital Signage week is a little earlier than usual. This year #NYDSW takes place October 14-18, 2019, hence missing Halloween and many people's school half-terms but more importantly allowing the DPAA's #VideoEverywhereSummit to once again be front and centre of the week.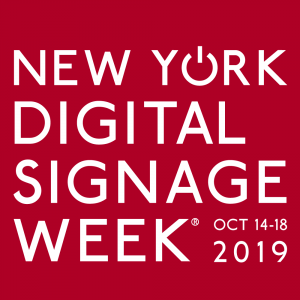 We know that the DPAA has, for some time now, been furiously looking for a larger space in which to hold their prestigious annual get-together. Truth be told, the Video Everywhere Summit probably outgrew the Roosevelt Hotel a few years ago and the rumour is that they will announce a bigger, shinier, new venue sometime next week.
What we do know is that the DPAA Video Everywhere Summit will be held on Tuesday October 15 somewhere in midtown Manhattan, that the DailyDOOH Investor Conference will take place on Wednesday October 16, that AdTECH: OOH – New York will take place on Thursday October 17, 2019 and if that wasn't enough, then another thirty or so events will be scheduled by others that week as well.
In 2018, 32 events took place and 108 speakers and 4,600 attendees participated in New York Digital Signage Week.