Adrian J Cotterill, Editor-in-Chief
Registration for AdTECH OOH – London, which takes place, slap bang in the middle of London Digital signage Week, on Wednesday May 15, 2019 (that's conveniently the day before the European Out of Home Media Summit for those wishing to attend both) is now open.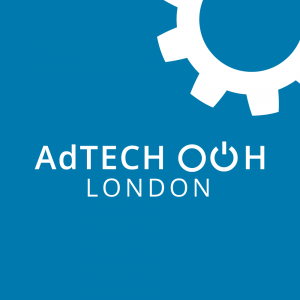 The event will once again (AdTECH OOH is one in a series of events that take place in London, Amsterdam and New York) be chaired by Broadsign's VP of Business Development Stephanie Gutnik.
Sessions that will interest anyone in AdTECH wishing to learn more about Out of Home, and those in Out of Home wishing to better understand the automation, programmatic buying and general AdTECH world will hear from BidSwitch's Laura Swire, Outmoove's Mendel Looije and Talon Outdoor's Josko Grljevic in the first session of the day where they will debate Programmatic Direct vs Real Time Bidding under the watchful eye of Outsmart Standards Committee Joint Chair and Primesight Insight and Innovation Director Mungo Knott.
Continuing the theme from our last AdTECH event in Amsterdam, Meindert van den Heuvel is a returning speaker, not only is he involved heavily in the IAB Nederland Taskforce DOOH, his company Interbest is the Netherland's biggest independent roadside operator with 88 digital and static OOH masts in prime locations on the busiest road and motorway networks (and was recently acquired by the Ocean Group).
Ocean Outdoor's Head of Data, Systems & Analytics Angela Muckle will share with the audience their work with Revenue Management; Customer Analysis and Pricing and we also have two case studies from brands such as John Lewis.
The afternoon will kick off with a discussion of audience data in a session entitled 'The Data Driven Jungle'. We have Cuebiq's Lawrence Chan, Blis' Andy Beames And Route's Information Manager Ian Wyatt sharing their knowledge on this topic.
To end the day we have what we believe is something of a first at an OOH or AdTECH conference and that's people sharing their thoughts on what the industry can do should we have a recession. We have Xaxis's Cecile Blanc, Verizon Media's Alice Beecroft and Universal McCann's Taylan Koru taking part.