Adrian J Cotterill, Editor-in-Chief
Pikasso Senegal announced today that it has acquired the panels and locations of Doni, the third largest OOH advertising company in Senegal.
The agreement consists in transferring the panel assets to Pikasso Senegal and the 16 employees involved in Out of Home.
The agreement includes the acquisition of 1,220 faces of 6m2 and 4×3 formats as well as Large Format panels (Portraits, Unipoles, Rooftops, Walls, Gantries and Bridges) located throughout Senegal: in the 18 districts of the Capital Dakar, in 16 towns of the suburbs of Dakar and in 41 cities and towns of 11 regions.
Thanks to its exemplary political stability, Senegal is one of the most important economic poles of West Africa, and has adopted an ambitious development plan, Plan Senegal Émergent (PSE), aiming at making it an emerging country by 2035. The GDP growth rate was 7% in 2017.
Antonio Vincenti, Chairman and CEO of Pikasso,told us "I am delighted to have reached this agreement with Mr. El Hadj Niang, a veteran of the OOH industry in Senegal who has built a remarkable advertising network. I have every confidence that his in-depth knowledge of the market, combined with our know-how and best-practice will enable us to contribute to the development of the OOH industry in Senegal. The first step will be to upgrade the full inventory by enhancing the potential of the locations and applying our quality procedures, to ensure high international standards and a world class customer service."
El Hadj Niang, Director of Doni, was quoted as saying "Pikasso is bringing the OOH industry in Senegal to the dawn of a new age. This welcome boost to the sector will also serve to embellish the urban living environment, in line with the authorities' vision of a brighter aesthetic for our country. As a business aiming to serve professionals, it will strive to have a profoundly positive impact on communication."
With this acquisition, Pikasso strengthens its presence in West Africa (it is already established in Mali and Ivory Coast) and the group is now present in eight countries.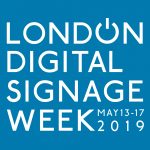 It is no surprise then that the Ministry of New Media invited Antonio Vincenti to present in London on Thursday May 16 at the European Out of Home Media Summit. His presentation is titled 'Building an International OOH Group in Emerging Countries'. Registration for the summit can be found here.
London Digital Signage Week takes place May 13-17, 2019 and as with its counterpart in New York, the week is for anyone involved with digital signage and interested in retail, employee communications, smart cities, digital out of home and of course digital signage!