Daktronics (NASDAQ-DAKT) of Brookings, South Dakota, has partnered with AdverDia Group, in conjunction with Fusion Superplex, to install a new digital LED display on the façade of their new facility in Nassau, Bahamas. Installed late in 2018, this is the first large-format display to be seen from public roadways in the Nassau area.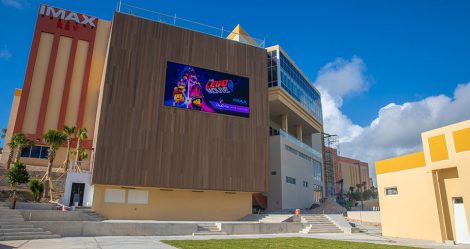 AdverDia Group's Jason Miller told us "From implementing new ideas, creating dynamic products or improving your existing services, innovation can be a catalyst for the growth and success not only for business but the community as well. AdverDia Group's mission is to foster innovative solutions with a primary objective to solve challenges that will support and grow our community."
The new LED display measures 14 feet high by 28 feet wide and features 16-millimeter line spacing to bring crisp, clear image quality to all messages it shows to passersby. The display faces a busy roundabout of traffic as it announces current and upcoming movies and events. It also shows advertising messages for the restaurants inside the complex and welcome visitors to the area.
Erin Harvey, Daktronics regional sales representative said "This installation brings great light and attention to AdverDia's messaging and helps them achieve their outreach goals near the Fusion Superplex. I am excited to help bring our first LED display experience to the Bahamas. There are many great applications for our technology in the resort tourism and outdoor sector and I look forward to this fantastic project leading to future opportunities in the area."
In green spaces and on retail campuses, Daktronics provides LED technology solutions with flexible scheduling options for content including advertising, event promotion, live videos and more.