Daktronics (NASDAQ-DAKT) of Brookings, South Dakota, recently partnered with Vision Sign, Inc. of Las Vegas, Nevada, and Caesars Entertainment for several new LED display installations at multiple Caesars Entertainment-owned properties.
Daktronics, in partnership with Vision Sign, Inc., installed more than 21,000 square feet of LED video at four renowned Caesars Entertainment resort locations in Las Vegas. The exterior signage renovations were completed in late 2018 and early 2019.
Vision Sign Inc., President & GM Ed Wasserman told us "As a leading custom sign integration provider serving Las Vegas, we are pleased to announce our involvement with Caesars Entertainment and Daktronics. Vision was selected to design, engineer, fabricate and install all primary and secondary steel structure components along with installing all electronics for all of the digital assets for the new LED video marquees."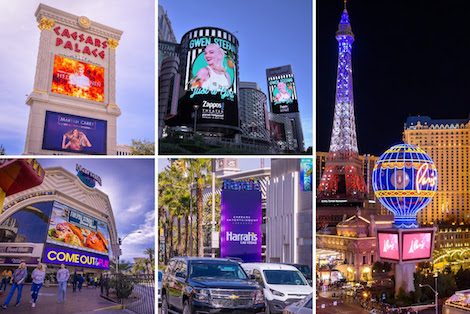 Top Left to Right: Caesars Palace Marquee, Planet Hollywood Resort & Casino Main Marquees, Paris Las Vegas Balloon Monument Marquee, Harrah's Las Vegas North Entrance, Harrah's Las Vegas Four-sided Marquee.
Planet Hollywood Resort & Casino: Daktronics, in conjunction with Vision Sign, Inc., installed a large marquee pylon display and an exterior building-mounted display in late 2018 at Planet Hollywood Resort & Casino. The marquee display measures 76 feet high by 101 feet wide with a continuous curve around one side to create a double-sided feature. The other exterior display is mounted to the building's façade with a barrel curvature. It measures 57 feet high by 34 feet wide.
Harrah's Las Vegas: A four-sided marquee featuring 15HD technology on all four sides and measuring approximately 49 feet high by 65 feet wide dramatically modernizes its predecessor. At the top of the marquee, a Harrah's channel logo display comes alive with the help of Daktronics 35-millimeter freeform LED elements which populate the approximately 6.5-foot-tall by 24-foot-wide display. In addition, Harrah's Las Vegas north entrance features two wall mounted screens. A 10-millimeter screen measuring approximately 7 feet high by 44 feet wide is positioned beneath a 15HD display measuring approximately 33 feet high by 44 feet wide. These displays welcome guests with dynamic marketing content.
Caesars Palace: The Caesars Palace flagship marquee was also revamped with the static and digital screens trading positions. The marquee now features two new sides of large 15HD video, each measuring 32 feet high by 44 feet wide.
Paris Las Vegas: Paris Las Vegas' new video displays consist of three sides, each measuring approximately 26 feet high by 37 feet wide. Daktronics 15HD video technology replaced the previous stationary flex faces inside the 'basket' beneath the iconic Paris Balloon Monument Marquee. The new displays are visible from all angles of the Las Vegas Strip to cars driving by and pedestrians walking on either side of the street.
Chris Holdren, executive vice president and chief marketing officer of Caesars Entertainment said "Partnering with Vision Signs and Daktronics, Caesars Entertainment will create highly engaging marquee displays which will attract even more visitors to experience all that our Las Vegas resorts have to offer."
The new displays allow each respective venue to show on-premise advertising and branding, while also promoting upcoming shows, concerts, events, current tenants, restaurants and more. The control functionality allows for scheduled content and adjusting content at a moment's notice.
No stranger to Vegas, Daktronics' first Las Vegas installation was in 1984 at Caesars Palace. Since then, the company has installed more than 250 LED displays in the Las Vegas area.
Daktronics LED video and messaging display technology features industry-leading environmental protection for a long lifetime with consistent performance and low power consumption, providing value and excitement for years to come.
Caesars Entertainment is the world's most diversified casino-entertainment provider and the most geographically diverse U.S. casino-entertainment company. Since its beginning in Reno, Nevada, in 1937, Caesars Entertainment has grown through development of new resorts, expansions and acquisitions. Caesars Entertainment's resorts operate primarily under the Caesars®, Harrah's® and Horseshoe® brand names. Caesars Entertainment's portfolio also includes the Caesars Entertainment UK family of casinos. Caesars Entertainment is focused on building loyalty and value with its guests through a unique combination of great service, excellent products, unsurpassed distribution, operational excellence and technology leadership. Caesars Entertainment is committed to environmental sustainability and energy conservation and recognizes the importance of being a responsible steward of the environment.