Adrian J Cotterill, Editor-in-Chief
In the aviation world, all eyes are on London Luton Airport following the December 2018 opening of its upgraded terminal, which has benefited from a GBP 160 million re-development investment, the biggest in the airport's 80-year history. With annual capacity expanded by 50%, London Luton Airport expects to welcome 18 million passengers a year by 2020 (footfall has already increased by 35% since the work began).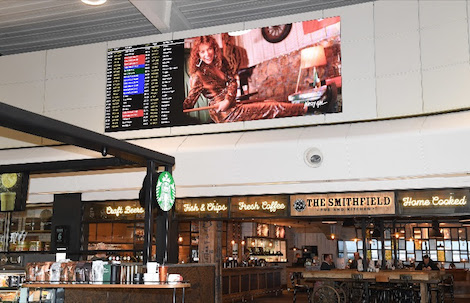 Digitisation is now critical to the operations of a modern day airport – whether for keeping passengers informed with real time information about their flights, or driving additional revenues by attracting premium advertisers who are looking to reach a captive audience. Upon the direction of integration partner SPC Group, a professional AV solution provider with extensive airport experience, London Luton Airport selected manufacturer of high quality LED displays, Absen, to deliver its digital display solutions.
Jon Swain, Director at SPC Group, discussed how the airport arrived at installing a digital solution. "The airport is always looking for ways to improve the customer experience – both for the passengers who use the terminal but also advertising partners who generate revenue. This premise is really what drove the desire to install digital display solutions which would enable the airport to relay information with increased speed and clarity, and also provide advertisers with a more impactful way to deliver their brand messages."
Ross Burling, Business Development Manager at Absen Europe, told us "This experience, together with the continuous feedback loop we have established with integrator and airport customers, have been fed into our product development pipeline to ensure that our products are at the cutting-edge and exceed the requirements and expectations of today's and tomorrow's demanding airport environment."
Matt Mullen, Passenger Environment Manager at London Luton Airport remarked "As part of LLA's £160m transformation to put the customer at the centre of everything we do, LLA wanted the best visual displays to help inform our customers at key points in their journey through the terminal. We recognised that advertising and information often compete for the same locations, therefore combining these into a single, bespoke MEGAFID (mega flight information display) solution best served the requirements. SPC Group, with their experience of what is required for optimal viewing, installation and maintenance of such large, stunning displays across the terminal, assisted with all decisions."
SPC Group chose to deploy the Absen N4, designed specifically for airport environments, in a number of locations throughout the terminal. Stand-out features such as front installation and service, an ultra slim panel (less than 6cm), advanced monitoring, image quality, and the uniformity and consistency of the image all set the N4 apart and make it perfectly suited to the modern airport environment. Luton has joined international airports in Turkey (Istanbul), Italy (Rome, Venice), Australia (Sydney, Brisbane), New Zealand (Auckland), Norway (Stavanger, Bergen, Trondheim), Finland (Helsinki) and tens of locations in the US which all boast Absen solutions, changing the airport landscape beyond recognition with performance which goes above and beyond a standard LED panel.
A 7×4 N4 display is stationed at the entrance to the baggage hall, and hosts advertising for onward travel providers such as coaches and trains. A second N4 display in a 11×4 configuration is installed at the entrance to the international departures lounge, and rotates through flight departure information across 4×4 on the left hand side of the screen while the remainder is used for advertising which is relayed by the airport's partner. At the North end of the international departures lounge above Hawker Bar, a further set up of 9×5 N4 also stages advertising run by the airport's partner.
Meanwhile, a 9×4 A2725 7.52sqm screen (2.5mm pitch) is positioned at landside arrivals, featuring partner-run advertising and flight arrivals information displayed over 2×4 panels. Featuring high brightness, high contrast and outstanding image quality, this indoor screen was the perfect solution for this particular location.
The digital LED make a key contribution to the overall ambiance of the new terminal, which also features 30 new shops, more than 1000 extra seats, a new boarding pier and an expanded security search area.