Russ Curry, Ministry of New Media
The EXPERIENCE UNITED SOCIAL CLUB is a gathering of AV, brand experience, marketing, and design professionals getting together for no other reason than to hang out at a cool bar, share some laughs, and 'mingle' outside of the box.
We're excited to announce that #XUSC has its first foray on UK shores during London Digital Signage Week.
The event takes place on the evening of Thursday May 16, 2019 where Bryan Mezsaros, Steve Picanza and Chris Neto will be your hosts for a night of mixing, mingling, and networking?
You can grab Your FREE Tickets here.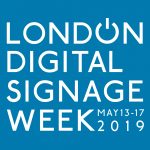 During London Digital Signage Week, Openeye Global CEO and SEGD President Board of Directors, Bryan Meszaros is presenting at the Global Digital Signage Conference on Tuesday at 14, 2019.
His presentation starts at 16:00 and will end the full day conference. It is titled 'Balancing Physical Design and AV Integration Within Immersive Environments'.
London Digital Signage Week takes place May 13-17, 2019 and as with its counterpart in New York, the week is for anyone involved with digital signage and who is interested in retail, employee communications, smart cities, digital out of home and of course digital signage!