Russ Curry, Ministry of New Media
JCDecaux UK, the UK's no.1 Out-of-Home (OOH) media company announced the launch of its newest digital network of screens outside Waitrose & Partners' stores across the UK which went live on Monday April 2019.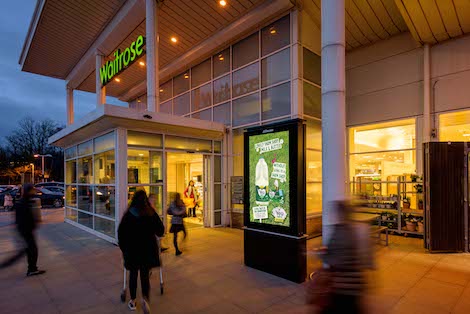 Rupert Ellwood, Head of Marketing at Waitrose & Partners told us "We look forward to our continued partnership with JCDecaux UK and to working together to deliver this new communications' channel. Through this new digital network, Waitrose & Partners will bring our own relevant and inspiring content to our customers – enhancing the experience for our shoppers and creating an exciting new opportunity for clients and brand partners."
The network follows the award of a new long term Waitrose & Partners' advertising contract, awarded to JCDecaux UK in January 2018, after a competitive tender process. the network comprises 100 screens across stores UK wide, delivering a premium communications channel for brands and will feature a mixture of Waitrose & Partners content and external advertising placed by JCDecaux.
The new digital screens will reach audiences across 100 high footfall stores and are located in proximity to store entrances – the 75′ high-definition, digital 6-sheet screens provide maximum visibility and flexibility for brands and engaging, up-to-the-minute content for shoppers.
Chris Collins, Co-CEO at JCDecaux UK said "JCDecaux UK has worked in partnership with Waitrose & Partners for over a decade and we are delighted to take this collaboration forward into a new digital channel delivering a premium retail audience, with a ABC1 profile* making it a powerful platform for advertisers across lifestyle categories from motors to finance to FMCG. This new channel will deliver an exciting new way for clients to engage Waitrose & Partner shoppers, facilitating brand-building and activation as well as delivering content that is relevant and timely."
Locations have been selected across the UK with stores including: Abergavenny, Bristol, Cambridge, Cheltenham, Chester, Guildford, Comely Bank, Exeter, Ipswich, Harrogate, Hove, Lincoln, London, (including: Richmond, Fulham and Wimbledon) Marlborough, Sevenoaks, Sheffield and Winchester.