Following an agreement with TAMANI Global Development & Investment, ELAN Media has launched a new cutting-edge DOOH network in the largest mall in Oman, Mall of Muscat.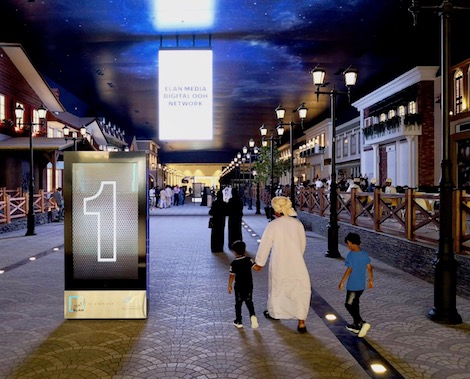 Under the agreement, ELAN Media is the exclusive media representative of Mall of Muscat and will bring its wide experience in the media industry to ensure the successful promotion and sales of the mall's DOOH advertising network in Oman.
The newly launched network increases ELAN Media's portfolio of high-value and high-impact advertising assets, which includes 'The Eye' a 103m2 LED screen that will be the largest outdoor digital media display in Oman and introduces the pioneering digital advertising technology in the region to the Omani market.
Sheikh Mahmood Al Jarwani, Chairman of TAMANI Global Development & Investment,told us "By teaming-up with ELAN Media, we are creating new platforms to cater to the dynamic media needs and media scenes of the Sultanate of Oman. Being associated with Oman's most awaited shopping and leisure destination 'Mall of Muscat', ELAN Media has the opportunity through this platform and through their cutting-edge, state of the art and advanced digital network to reach to a wider audience than ever before. Enriching the visitor's experience is our motto and together with ELAN Media we will be able to achieve that goal".
Jamie Ball, ELAN Media's Chief Operating Officer told us "we are thrilled to introduce the region's most- advanced Digital Out-of-Home network to the Omani market, in partnership with TAMANI Global Development & Investment. Our collaboration will positively contribute towards enriching the visitors' experience at Mall of Muscat, the biggest mall in Oman. This expansion is aligned with ELAN Group's strategy to grow by entering new markets and achieving business objectives overseas".
Mall of Muscat is the largest mall in Oman and provides visitors with various unique attractions and entertainment facilities, such as Oman Aquarium, a Snow Park, a renowned family entertainment center (Faby Land), a Bowling Center and a global brand experience.