Russ Curry, Ministry of New Media
LG has just announced its schedule for its annual TechTour, and we're excited to be able to tell you, that once again, it includes a stop in Manhattan for New York Digital Signage Week.
The #LGOnTheRoad tour dates are: –
May 14 – Washington, DC
July 24 – Dallas, TX
Aug. 22 – Orange County, CA
Sept. 12 – San Jose, CA
Sept. 26 – Chicago, IL
Oct. 17 – New York, NY
New York Digital Signage Week takes place Monday October 14 to Friday October 18, 2019. As usual the week is a heady mix of FREE and PAID for events – conferences, showcases, cocktails, open house, breakfast debates, tours and other ad-hoc activities.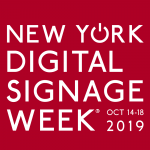 Just some of the events on offer include; 'Lunch With Samsung' which kicks off the week at midday on Monday, the DPAA Video Everywhere Summit on Tuesday October 15 at the Sheraton hotel in midtown Manhattan, AdExchanger's two day PROGRAMMATIC I/O event being held October 15-16, the DailyDOOH Investor Conference on Wednesday October 16, and both AdTECH: OOH – New York at the World Trade Center AND this #LGOnTheRoad TechTour on Thursday October 17.