Adrian J Cotterill, Editor-in-Chief
JCDecaux was recognized with the Ad Council's Catalyst Award this week at #OOH2019. Each year, this award is presented to one out of home advertising company for its extraordinary contribution to the Ad Council's public service communications programs.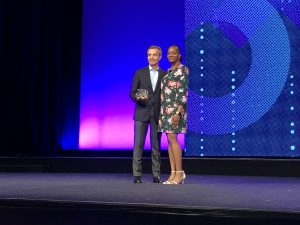 The Ad Council, a national non-profit organization, uses the power of communications to tackle the nation's toughest issues. and is the creator of national campaigns including Smokey Bear and 'Love Has No Labels'. Through partnerships with non-profit organizations, federal government agencies, and leading brands, the Ad Council works to drive change on public issues through innovative and integrated campaigns. All Ad Council public service advertisements (PSAs) are run and aired in donated time and space.
The OOH advertising industry ranked among the Ad Council's top supporters of providing pro bono space in 2018, donating more than $200 million for Ad Council campaigns.
This year's Catalyst Award was presented to JCDecaux for their exceptional generosity, leadership and commitment to driving change around various Ad Council campaigns, including Adoption from Foster Care, Breast Cancer Risk Education, Bullying Prevention, Caregiver Assistance, Emergency Preparedness, Fatherhood Involvement and Saving for Retirement. In 2018, JCDecaux donated more than 10,000 placements for PSAs throughout New York, Chicago, Boston and San Francisco, providing broad market exposure for a wide range of Ad Council campaigns. Additionally, the Ad Council extended its partnership to JCDecaux's shopping mall network to place campaign assets in highly trafficked malls around the country. Through this exposure, Ad Council campaigns have achieved high impact reach at scale to build awareness of our social issues on local levels. Through their commitment to community outreach and public service, JCDecaux's support of Ad Council campaigns provides a frequency of awareness that stimulates action and results every day.
Lisa Sherman, President and CEO of the Ad Council told us "Out of home media has always been crucial to driving meaningful change for our campaigns and we're incredibly grateful to all of our partners who lend their support. JCDecaux's commitment this past year, and throughout our long history of working together, has gone above and beyond, bringing critical social good messages to communities throughout the country and driving significant impact. They are highly deserving of this honor."
Jean-Luc Decaux, Co-CEO of JCDecaux said "JCDecaux values the opportunity to work with the Ad Council and to make available a strong Out of Home platform to spread the many beneficial messages they produce each year. It is through this respected partnership that we work together to further the reach of messaging on critical issues impacting the many communities where JCDecaux has a presence."
The Ad Council is where creativity and causes converge. The non-profit organization brings together the most creative minds in advertising, media, technology and marketing to address the nation's most important causes. Founded in 1942, the Ad Council has created many of the most iconic campaigns in advertising history. Friends Don't Let Friends Drive Drunk. Smokey Bear. Love Has No Labels. The innovative social good campaigns raise awareness, inspire action and save lives.