Adrian J Cotterill, Editor-in-Chief
Today, the National Center for Missing & Exploited Children (NCMEC) and advertising agency M/H VCCP have launched Runaway Train 25, a cross-industry initiative to reinvent the search for missing children in the U.S. As part of the initiative more than 450 digital billboards and transit screens will support the campaign ahead of National Missing Children's Day on Saturday May 25, 2019.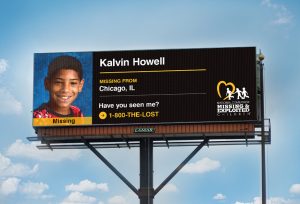 NCMEC President and CEO John Clark told us "Last year NCMEC assisted with over 25,000 cases of missing children, the vast majority were runaways," said . "Thanks to the outdoor advertising community and all of our amazing partners, this highly targeted campaign gives us visibility in transit locations across the U.S. Campaigns like this can play a vital part in the search and the ability to run multiple cases that are geo-targeted across more than 40 states will be a true game changer."
Organized by the Out of Home Advertising Association of America (OAAA), and produced by Grand Visual, the campaign aims to harness the public's help to join the search by publishing the names and photos of missing children and raising awareness of the number to call for sightings; 1-800-THE-LOST. The digital OOH activation spans 14 media vendors and runs across rail, roadside, and high street locations in over 40 U.S states, including major cities NYC, Chicago, Boston, Atlanta, and Philadelphia.
OAAA President and CEO Nancy Fletcher said "We know that it only takes one person to find a missing child. This powerful campaign is a great example of OOH, online, and social media working together to ensure photos of missing children are distributed as widely as possible. It's about driving awareness and spurring action; everyone has the ability to make a difference in their communities."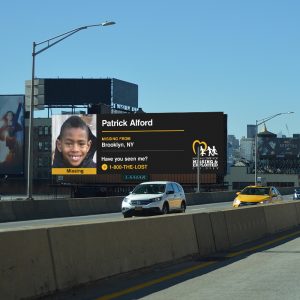 The campaign is delivered through OpenLoop, the dynamic creative optimization server from QDOT. OpenLoop takes the data feed from NCMEC and publishes each missing child case in a geo-targeted push to digital billboards in and around the region the child went missing. "It's about using clever ad tech to reach a broadcast level audience, whilst delivering tactical and relevant information at a community level," said Grand Visual's COO, Ben Putland.
The digital billboards also promote Runaway Train 25, a new music video, released today, as part of the broader initiative, which reinterprets the 1990's award-winning Soul Asylum song "Runaway Train" with musical artists Jaime N Commons and Skylar Gray feat. Gallant. Directed by RSA Films' Emmy award winner Jake Scott, the music video uses geo-targeting technology to change the missing children featured based on where the video is viewed.
Both the DOOH creative and the music video encourage people to visit runawaytrain25.com and share the video across their social channels to help publicize #MissingKids and #RunAwayTrain25 through their personal networks.