Adapt Media, a Toronto-based out-of-home media company has officially announced its partnership with KS Aura Retail Inc. It's extending its street level reach by adding a prominent, downtown core, large format billboard to their media portfolio. Located along one block from the Eaton Centre at Yonge and Gerrard, the OOH billboard reaches 66,300 shoppers, diners and commuters daily.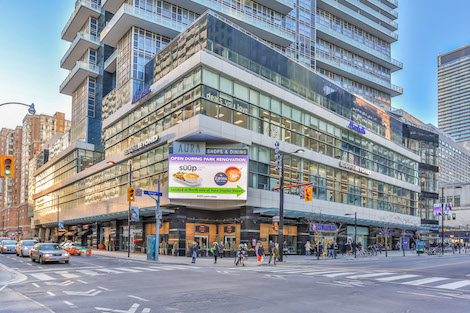 KS Aura Retail Inc. is a soaring architectural landmark that has revitalized one of Toronto's most desirable neighbourhoods – completed in 2015, it is 80 storeys tall. The concourse level is full of amenities, shopping, restaurants and services.
Laura Maurice, SVP of Sales at Adapt Media told us "Growing our OOH footprint in Canada is our number one priority." says We're excited to partner with KS Aura Retail Inc. to expand our rapidly growing media portfolio in the heart of downtown Toronto."
The billboard can be bought direct or programmatically.
KS Aura Retail Inc. stands at 80 storeys, high above the corner of Yonge and Gerrard, Aura is one of Canada's tallest residential condominium and the embodiment of innovation, sophistication, and remarkable design. The granite and glass-clad podium is home to 180,000 square feet of amenities, shopping, restaurants, and services including Aura Fitness, a 42,000-square-foot fitness facility, retail giants like Marshalls and Bed, Bath & Beyond and three restaurants serving up an array of delicious cuisine. Aura sets a new benchmark for downtown living with 995 units offering luxurious finishes, exceptional materials, and world-class interior design.