Adrian J Cotterill, Editor-in-Chief
To celebrate the launch of Coca-Cola Energy, Coca-Cola Great Britain has launched a multi-million-pound fully integrated campaign that invites people to 'Spread Your Positive Energy"' and it kicked off with a flash mob in Piccadilly Circus, some serious graphics up on Piccadilly Lights and a takeover of the O2 over the bank holiday weekend.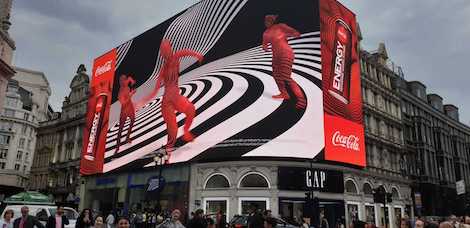 Taking place in front of the iconic Piccadilly Lights, a host of dancers surprised and delighted passers-by with an energetic routine, whilst also offering samples to consumers to try the latest addition to the Coca-Cola line up.
With a strong music influence that integrates music visuals throughout the creative, the campaign includes a partnership with Spotify that will allow listeners to enjoy a sponsored 'energy boosted' playlist and more than 300,000 samples will be given out at festivals across the country to keep people energised throughout the summer.
The campaign, which has been led by creative agency Ogilvy, includes a new TVC, featuring dancers emerging from pulsating red waves that ripple out from a can of Coca-Cola Energy in time with the up-tempo dance track 'Circle Up' by Party Favour, featuring Bipolar Sunshine. The out of home includes activation at key transport and commuter hubs across the country.
Walter Susini, Coca-Cola Western Europe Marketing Director, commented on the launch "The campaign celebrates what is at the heart of Coca-Cola – positivity and sharing special moments. The creative brings to life that feeling you get when you share that energy with those around you. Coca-Cola Energy is the latest example of how we're continuing to innovate across the Coca-Cola trademark by bringing together the taste of Coca-Cola which people know and love with some of the characteristics of a traditional energy drink."
The first energy drink released under the Coca-Cola brand, Coca-Cola Energy features caffeine from naturally-derived sources, guarana extracts, B vitamins and contains no taurine. Coca-Cola Energy hit stores earlier this month and is available in 250ml cans and in two variants – with and without sugar.
The campaign is part of a wider pan-European campaign from Coca-Cola being rolled out across Europe this month.