Adrian J Cotterill, Editor-in-Chief
Cadbury has this week launched a dynamic digital out of home campaign to encourage the nation to trial and vote for which of its three newly invented limited-edition Dairy Milk bars they'd like to keep in the range. Cadbury's Inventor competition initially launched last year and invited UK consumers to invent a new flavoured Cadbury Dairy Milk bar.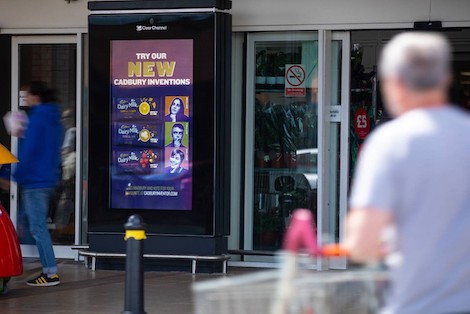 Three finalists have seen their bars created and go on sale in stores nationwide, and now the public are invited to decide which flavour will become a permanent addition to the Cadbury Dairy Milk range.
Lyndsey Homer, Jr. Brand Manager Cadbury Dairy Milk, said "We wanted a campaign that we could be confident would get the public behind our three Inventors and encourage them to take part in selecting which flavour we introduce to the Cadbury Milk Bar range. Using the live polling data will create a sense of excitement and urgency among the public to get out and vote for their favourite."
The campaign shines a light on the three inventors whose flavours were chosen in competition and, in the style of a political campaign, rallies the nation to head to the polls and vote for their favourite.
Devised by out of home and location marketing specialists Posterscope with Carat, the nationwide campaign will appear on over 50 large digital format screens and more than 500 digital 6-sheets, supported with static large and 6-sheet formats throughout July. There will also be an upweighted presence of the relevant creative in the finalists' local area to encourage residents to get behind their candidate.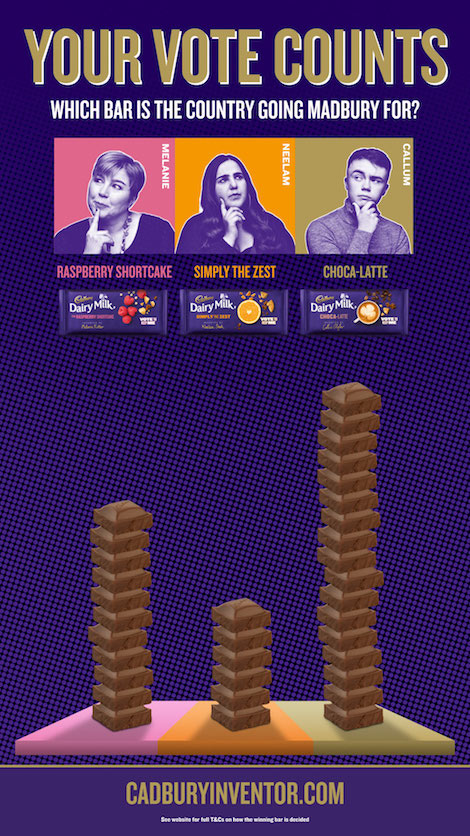 Fleur Greenfield, Client Executive at Posterscope, told us "We are always excited when a client wants to take advantage of the unique capabilities of digital out of home. By using our Posterscope planning platform ECOS we have been able to draw on live voting and location data to serve a dynamic campaign that is engaging and relevant to consumers wherever they are in the country."
The creative will feature live polling data from across the UK, drawn from Cadbury's voting website, to show the public which chocolate bar is leading the polls, and which flavour is proving most popular in different parts of the UK.