iGotcha Media has announced a partnership with Lamar Advertising to provide touch-screen kiosks for TransLink, Metro Vancouver's regional transportation authority, which manages the SkyTrain, Coast Mountain Bus, West Coast Express, SeaBus, Park and Ride locations and bus loops.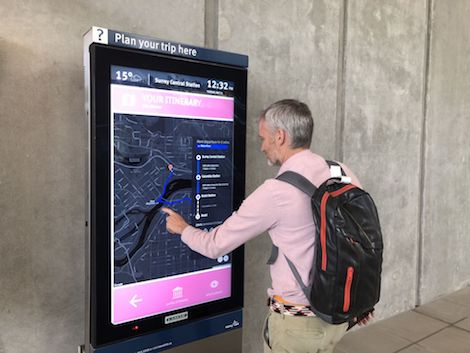 TransLink's touch-screen kiosks present an all-new, effective and highly-visual form of communication that allows users to plan trips, access live transit schedules, see upcoming departure times and receive alerts and emergency notifications. When not in-use, touch-screen kiosks act as dynamic advertising platforms.
iGotcha Media developed a tailor-made application for Lamar that integrates wayfinding technology, emergency alerts, live data (schedules, wait times, etc.), RSS feed, weather feed, attractions information (area shopping and restaurants, etc.) and a 'green' feature that analyses routes and compares the energy efficiency of public transportation to automobile use. The wheelchair-accessible kiosks feature 55-inch screens and a customized user interface that adapts to ambient light. Kiosks are also resistant to weather conditions including rain, snow, hail and extreme temperatures.
TransLink CEO Kevin Desmond told us "We see this as a real win-win for TransLink and our customers. Commuters will be able to access the most up-to-date transit information and plan their trips using different modes around our network. These high-tech devices come in addition to existing journey planning services already available."
"We are very proud to roll-out our touch-screen kiosks at TransLink facilities in Metro Vancouver," continues Jay Sharpe, Vice President, Lamar. "These kiosks greatly benefit both regular commuters and visitors by simplifying navigation around this sophisticated intermodal transportation network. And, our advertising clients benefit from dynamic platforms strategically placed in very high foot traffic locations. As Kevin said, it really is a win-win situation."
TransLink is Metro Vancouver's regional transportation authority and is the first North American transportation authority to be responsible for planning, financing and managing of all public transit in addition to major regional roads and bridges.
iGotcha Media is a digital interactive studio specialized in building memorable screen-based customer experiences. With offices in Montreal and Toronto, iGotcha Media's clients include Birks, Browns Shoes, Cirque du Soleil, Groupe Touchette, Loto-Québec, National Bank of Canada, Nissan Canada, Reebok, Toronto Congress Centre and VIA Rail Canada.