Russ Curry, Ministry of New Media
The next Digital Signage Federation Meet & Greet takes place this week in Chicago on August 14, 2019 at the NEC Training Facility, Downers Grove, IL from 6:00 PM – 8:30 PM CDT.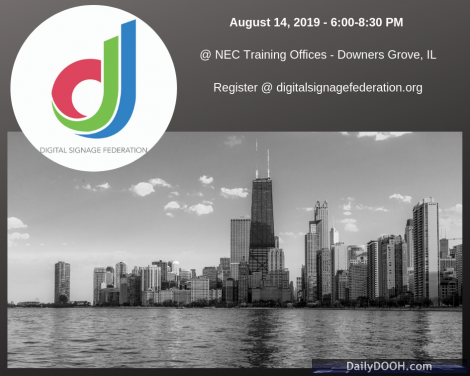 As usual, you'll be able to join the DSF Board of Directors, past leadership, and industry professionals at this staple DSF event.
The NEXT/NOW™agency will present 'Rooted in Greatness', a discussion about their work with projection mapping in trees, along with their work on the Chicago Moen showroom.
Presenters from NEXT/NOW™ will be Alan Hughes, Founder/Chief Creative Officer, and Randy Gress, Director of Business Development.
The DSF puts on a regional event for its members four times a year in North America.