Adrian J Cotterill, Editor-in-Chief
The Out of Home Advertising Association of America (OAAA) has announced that former Interactive Advertising Bureau (IAB) executive Vice President Anna Bager will be its next president and CEO.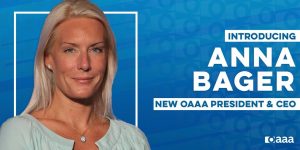 Anna starts in September and of course, replaces the indomitable Nancy Fletcher, who has led the organization since 1991.
While at IAB, her work spanned a wide range of initiatives in digital, mobile, video and data representing more than 650 member companies like Amazon, Google, Facebook, Microsoft and Disney. Additionally, she was responsible for market research, media measurement, and advocacy for key issues such as brand safety and consumer privacy.
Jean-Luc Decaux, co-CEO of JCDecaux North America told us "OOH has become more digital, more measurable and more data-driven. Given Anna's outstanding track record at IAB, she is well-positioned to lead the OOH industry to an even stronger and more innovative future".
Outgoing CEO Nancy Fletcher said "Anna can bring that digital experience and help them continue and enhance the growth by focusing on further uniting the whole out-of-home ecosystem. In her experience at IAB, she worked a lot on definitions and standards guidelines to create a really rich foundation. And that's the same kind of foundation that out-of-home needs now to expand its growth trajectory."
Anna Bager was quoted as saying "Digital and out of home have a lot of similarities. Advertisers are interested in the platform, and it's one that everyone talks about right now."
At the DailyDOOH Investor Conference, which takes place Wednesday October 16, 2019 during New York Digital Signage Week, we have an agenda item which sees Sean Reilly | CEO | Lamar Advertising Company & OAAA | Chairman and Anna Bager | President and CEO | Outdoor Advertising of America (OAAA) in conversation.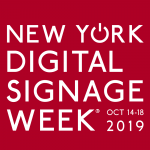 However this may not be the first opportunity for the industry to get a good look at Anna as the OAAA are planning an event on Monday October 14 to introduce her more formally.
As the OAAA continues to move from a legislative past to a data driven digital future, readers should also note that the OAAA are one of the sponsors of AdTECH: OOH – New York, which takes place Thursday October 17, 2019.