Ben Woodthorpe, Simon Jagger and Cameron Gunn were appointed Administrators of SIS Digital Vision Ltd, SIS Digital Media Ltd, 8 OutdoorMedia Ltd and Solutions in Steel Ltd on Friday August 9, 2019.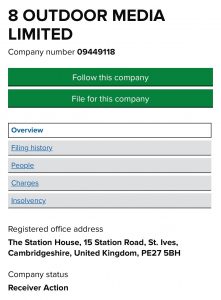 We told those who would listen early last week that Administrators had been called in to oversee the future of these companies and the week before that we exclusively revealed that they were all VERY likely to soon enter voluntarily administration.
Administrators visited the London offices on Tuesday and provided a summary of the situation to those staff who turned up for work. Briefly: –
The Administrators are currently seeking to sell the business and/or assets of the Companies, either as a whole or in part. They told staff that a number of offers have been received and that they are in the process of reviewing and negotiating these offers with a view to achieving the best value possible for the assets.
If a sale is concluded there is the possibility that 'some' staff will transfer to the purchaser, however this cannot be guaranteed.
No employee is being paid from August 9, 2019 onwards, however the Administrators did say that in the event a sale is agreed and employment transfers to any purchaser, amounts owed to them will become payable by the purchaser.
If a sale cannot be agreed or employees do not transfer to any new entity, said employees will be made redundant. The administrators made mention that at this point they will assist anyone so affected in making a claim from the Redundancy Payments Service.
The Administrators hope to have clarity by the end of the week and are currently working towards concluding any sale no later than August 20, 2019.
We also noted last week that Julian Lee, the Sun Hung Kai & Co. (SHK) board representative at 8 Outdoor was also out after their ill-fated GBP 11 million investment into the company back in February 2018 [1]. SHK has very likely seen huge multi-million pound losses on this investment.
The naive reaction in some quarters to our reporting of this whole sorry saga over the last month somewhat surprised us with no-one really willing to look at the root cause of this debacle – with the UK OOH market up a whopping 9% in Q2, 2019 and a supposed GBP 11 million investment only a year ago, people should be asking where did all that money go?
It will be interesting to see if Insite or GLOBAL initiate a proper RFP tender process for the inevitable reconstruction of the former 8 Outdoor leases and more generally for the ongoing digital conversion and sorely needed upgrade projects across the estates.
It will of course be even more interesting should any company associated with Simon Grice then 'win' these tenders. We have it on good authority that his next / new company is OPTIC MIRAGE Ltd. Company No. 12128785 incorporated on July 30, 2019
The @8OutdoorMedia Demise Continues [2]
For Sale & In Trouble, What Could Go Wrong For @8OutdoorMedia [3]