Russ Curry, Ministry of New Media
Machine Hallucination is Refik Anadol's first large-scale installation in New York City. It is a mixed reality experiment deploying machine learning algorithms on a dataset of over 300 million images. It represents a wide-ranging selection of architectural styles and movements, to reveal the hidden connections between these moments in architectural history.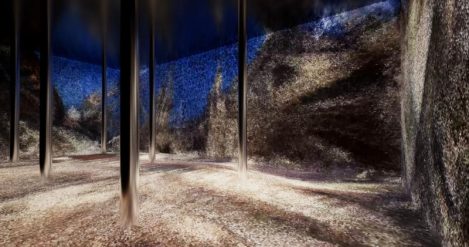 As the machine generates a data universe of architectural hallucinations in 1025 dimensions, the idea is that one can begin to intuitively understand the ways that memory can be spatially experienced, as well as understand the power of machine intelligence to both simultaneously access and augment human senses.
Refik Anadol Told us "By embedding photography with machine intelligence a new latent cinematic experience is born, one that narrates the fluid consciousness of a city and displays cultural information in a way that allows us to realize the complex fabric that unfolds our present realities".
​
For its debut at ARTECHOUSE in Chelsea Market, the installation will focus on architectural images of New York City, revealing the hidden connections between unique moments in the city's iconic architectural culture and history. The installation will harness machine learning to render New York's most renowned buildings in stunning new ways, illuminating the city's architectural past, present and future.
​Refik Anadol (b. 1985, Istanbul, Turkey) is a media artist, director, and pioneer in the aesthetics of machine intelligence. His body of work locates creativity at the intersection of humans and machines. In taking the data that flows around us as his primary material and the neural network of a computerized mind as his collaborator, Anadol paints with a thinking brush, offering us radical visualizations of our digitized memories and expanding the possibilities of architecture, narrative, and the body in motion. Anadol's site-specific parametric data sculptures, live audio/ visual performances, and immersive installations take many forms, while offering a dramatic rethinking of the physical world, our relationship to time and space, and the creative potential of machines.