Adrian J Cotterill, Editor-in-Chief
The 'A.I. Bar', which has been developed by British data science product company DataSparQ, is aimed at making ordering in busy pubs, clubs and bars easier, faster and 'fairer' by using facial recognition technology to place customers in an 'intelligently virtual' queue.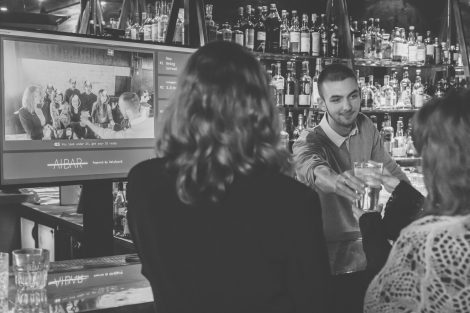 John Wyllie, Managing Director, DataSparQ told us "Queuing is a part of British life that we all have to endure – but we wanted to do something to improve the experience. It's the uncertainty of waiting times alongside queue jumpers that's adversely affecting consumer behaviours in bars and pubs. The A.I. Bar ensures it's a hassle free, first come, first served system that makes ordering drinks more convenient for both drinkers and bar staff alike".
The company claims to be "… in talks with drinks companies and pub chain owners to roll out the technology nationwide in the next 12 months. The system can be installed anywhere and is scalable – so we are expecting it to start in bars and progress into music festivals and beyond."
Before and after data during an initial trial, also revealed there was an overall reduction in serving times, equivalent to more than 1,600 pints poured over a year to the average UK pub, thanks to the ordering process being more efficient.
The 'A.I. Bar' Software-as-a-Service product will cost landlords from GBP 199 a month and works by simply using a standard webcam, display screen and Internet connection. It also speeds up ID checks, if a customer looks under 25, the system will prompt them to have their I.D. ready or let bar staff know if they've already been checked.
Long-time London publican Andrew Archer, who has been involved in the development process said "The true benefits to bars and pubs will be longer term. You'll obviously decrease serve time through faster ID checks and not messing around arguing over who to serve next. People will know how long they must wait and won't get queue barged. In a competitive market such as bars, having an edge on customer experience will help to encourage repeat business."
Additional functionality, which is currently being developed; includes the ability for customers to re-order their drinks while still in the queue (the technology memorises drinkers' orders and reacts to simple hand signals if there are any changes) and 'FaceTab' – a mechanism that visually adds people to a bar tab, only allowing certain faces to order against that tab.