Adrian J Cotterill, Editor-in-Chief
iGotcha Media, a digital interactive studio specialised in building memorable screen-based customer experiences, this week announced a partnership with the Old Port of Montreal Corporation, a Canada Lands Company, to deploy digital kiosks that welcome guests and provide helpful information.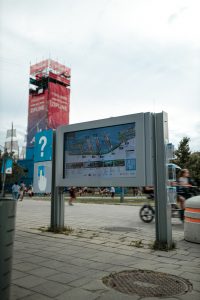 Montreal's Old Port is the most visited recreational and tourist site in Canada, receiving more than seven million visitors per year. Effectively communicating with visitors is one of its top priorities. Replacing traditional static signage, two new digital kiosks provide orientation and promote attractions including the Montreal Science Centre, the IMAX Telus Theatre, the Montreal Observation Wheel, Bateau-Mouche boat cruises, the Bota Bota spa and numerous restaurants and boutiques.
New digital kiosks are double-sided, featuring two 75-inch LG monitors encased in a custom-made aluminium frame. Kiosks are very robust, able to withstand extreme weather conditions and direct sunlight. Equipped with WIFI antennae, Old Port staff may manage and update content using iGotcha Media's proprietary content management software. Changes may be made quickly and easily from any location and kiosks may be managed to display individualized or network-wide content.
Pierre Ayotte, Digital Project Manager, Old Port of Montreal Corporation told us "Because we receive around seven million visitors per year, we need to find effective ways to communicate with them. In short, we wish to ensure that all visitors to the Old Port enjoy an excellent experience. iGotcha Media's digital kiosks present information in a dynamic and easy-to-use way that is ideally suited to large outdoor venues. We are confident that our visitors benefit greatly from these kiosks."
For more than 25 years, the Old Port of Montreal has offered a wide range of interactive, cultural, and leisure activities including science-oriented activities at the Montreal Science Centre. Spanning 2.5 km along the St. Lawrence River, the Old Port of Montreal is Canada's most popular tourist site welcoming more than 7 million visitors each year. Its partners are Coca-Cola, Eska, Natrel, Sleeman, TELUS, Rythme 105.7, 92.5 The Beat, 96.9 CKOI, and 98.5 FM. www.oldportofmontreal.com
Greg Adelstein, President, iGotcha Media said "We have been working with the Old Port since 2017," continues "Since then, we've operated two double-sided digital kiosks. Based on the success of this original implementation, the Old Port asked us to add two more kiosks, which were unveiled last month. Providing effective and welcoming communications for large groups in public places can present challenges. By merging latest-generation technology with exceptional ease-of-use, we are proudly contributing to the experience enjoyed by all who visit this wonderful place."
iGotcha Media provides strategy and content creation. Its solutions include screens, interactive kiosks, video walls, RFID technology, audience measurement technology, wayfinding, payment solutions and in-store audio. With offices in Montreal and Toronto, iGotcha Media's clients include Birks, Browns Shoes, Cirque du Soleil, Groupe Touchette, Lamar Advertising, Loto-Québec, National Bank of Canada, Nissan Canada, Reebok, Toronto Congress Centre and VIA Rail Canada.