Adrian J Cotterill, Editor-in-Chief
Premium digital out-of-home media operator Ocean Outdoor has secured a new partnership with ITV Sport to broadcast highlights and live England games from the Rugby World Cup 2019 as it happens in Japan.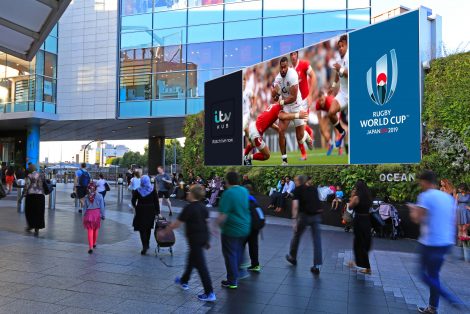 Under the terms of the deal, highlights will be carried across multiple large format digital screens in six UK cities, giving sports fans and supporters unprecedented access via DOOH.
Sixty second clips will appear throughout the 2019 World Cup, starting on September 20 when Japan plays Russia, up to and including the final on November 2.
In addition, Ocean has secured the agreement of ITV Sport and Westfield to show the England versus France game live on its large full motion screen in Westfield Square, London on Saturday, October 12 (kick off 9.15am).
ITV marketing manager Chris Anstey told us "ITV are always looking for new and innovative ways for fans to follow all the biggest moments from the biggest sporting events and this year is no different. This partnership with Ocean means the action from the Rugby World Cup is more unmissable than ever for fans."
Ocean head of content and sponsorship Kevin Henry said: "Ocean's latest partnership with ITV enhances our live and sports highlights DOOH coverage, giving fans and audiences unprecedented access to the action as it happens, and live coverage of England's fourth Pool C match with France."
Forty-eight matches in total will be played during the 2019 World Cup.
During the year, Ocean has also broadcast live horse racing, Formula E racing and broadcast live tennis coverage from Wimbledon in partnership with the All England Lawn Tennis Club, the BBC and Wimbledon sponsor, Jaguar.