Adrian J Cotterill, Editor-in-Chief
A Brighton sea-front bus shelter has received a radical facelift, thanks to Clear Channel and partners Brighton & Hove City Council.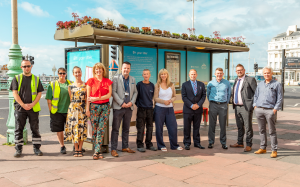 The bus shelter, located on Marine Parade, will newly feature a 'living roof', made up of a variety of Sedum plants, well known for enhancing air quality, promoting biodiversity and thriving well in shallow soil. The advertising panel and glass panels promote the project to waiting travellers and drivers alike.
Will Ramage, Joint Managing Director at Clear Channel, told us "We're pleased to be continuing Clear Channel's proud tradition of working on projects that go beyond just advertising, help give back to local communities, and benefit the environment. This project will not only help reduce the amount of plastic on our beaches and in oceans, and improving the seaside environment, it will also be supporting some of the most vulnerable in our society. We are creating real jobs that make a difference and will be exploring opportunities to scale up this initiative nationwide in the future."
Each Sedum plant has been planted in an upcycled plastic bottle, all of which were recovered from the nearby beach by Clear Channel, helping to give them new life and purpose. Local garden centre – Hoye's Home & Garden – have lent their expert knowledge to choose and supply the most beneficial plants for the local environment. Creative signage experts Russells were responsible for the build of specially designed shelter.
Plants will be rehomed ahead of the winter and offered to local schools to help educate young Brighton residents.
The plastic bottles, which make up a large percentage of dropped or washed-up waste, were all recovered from the local beach as part of a new beach cleaning initiative, conceived by Clear Channel to improve local seaside communities, with assistance provided by Brighton & Hove's own City Clean team.
The initiative, wholly funded by Clear Channel, has supported a formally homeless Brighton resident back into employment, with the help of YMCA Brighton's EVOLVE project. They're one of three formerly homeless people now employed by Clear Channel.
Councillor Anne Pissaridou, Chair of the Environment, Transport and Sustainability Committee at Brighton & Hove City Council, said "This initiative by Clear Channel is very welcome and complements the work the council is already doing to raise public awareness of environmental issues and of the dangers to the plastic waste. It is particularly pleasing that through this project, a formally homeless person gained full time employment and is now working for the company based in Brighton & Hove. We will continue to work closely in partnership with Clear Channel to support projects which benefit our local community and protect our local environment."
The project is part of a series of projects from Clear Channel that seek to make a difference and benefit the environment, as well as local communities. Currently, Clear Channel leads the way in using third party plastic waste from the UK to produce parts of its street furniture range. As the company continues to work with the UK's leading plastic waste processors and innovative recyclers, Clear Channel expect to go even further and soon make products directly from the waste collected.