EAT Displays, an Australian technology based company and media owner has been awarded a number of patents that relate to digital-out-of-home advertising under the globally recognised Patent Cooperation Treaty (PCT).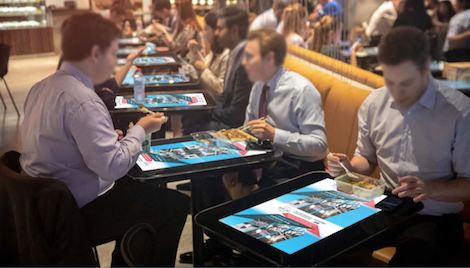 EAT Displays has recently rolled out the first scalable smart Electronic Advertising Table, called the EAT Table, in food courts in shopping centres and other similar venues, with the latest installation and launch of the new and innovative EAT digital table technology and platform at Sydney International Airport.
Adam Canceri, the CEO and Founder of EAT Displays told us "We have invested heavily in building an extremely solid and broad intellectual property portfolio that extends to both domestic and international markets. We continue to fortify and expand our intellectual property portfolio as we continue to further develop and enhance our digital-out-of-home EAT Table technology."
EAT Displays patent protection covers, among many other things, real-time hyper targeted advertising technology in the DOOH industry through the utilisation of sensory technologies in order to analyse the external environment for the purpose of automatically orienting and serving a consumer with relevant and useful location-based content in real-time.
We are told that EAT Displays intellectual property portfolio includes deep patent protection in Australia as well as encompassing global patent protection measures spanning throughout 150 signatory countries through the Patent Cooperation Treaty (PCT). EAT Displays registered extensive patent portfolio can be viewed through the World Intellectual Property Organisation (WIPO) website.