Bulldog Kiosks, a UK start-up, is equipping the newly launched Ealing Broadway store of sports and outdoor-equipment specialist Decathlon with a customisable gift-card dispensing kiosk.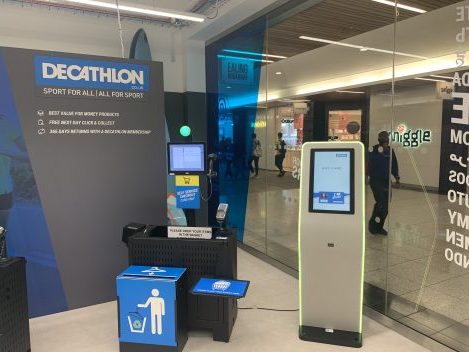 The freestanding touchscreen kiosk gives Decathlon customers the chance to truly personalise the store's gift card with a selfie or uploaded image alongside a personal message, all printed in around 30 seconds in-store.
Phil Wood, Founder Bulldog Kiosks Ltd. told us "Our kiosks give us the opportunity to offer Decathlon a truly personal service and their customers want to stand out and gift their friends and family in a totally unique way. Decathlon now has 44 stores in the UK and constantly strive to innovate in sports and adventure retail. Bulldog Kiosks will be instrumental in pursuing that mission with their
passion in using digital technology to enhance the customer experience. Bulldog have created a portfolio of cutting-edge and digitally-innovative kiosks to suit the increasing diversity of the customer they serve. By integrating the latest advances in touchscreen point-of-sale and digital printing in our unique Customisable Gift & Loyalty Card dispensing self-service kiosks, customers can now add that special personal touch when they gift their loved ones".
The Bulldog self-service kiosks will enable Decathlon to continue to enhance the customer journey in terms of convenience and range of choice, while upselling and increasing its gift- card sales.