Adrian J Cotterill, Editor-in-Chief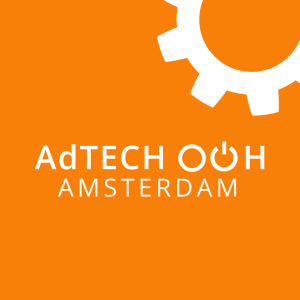 Our last AdTECH: OOH Conference of the year takes place next week, AdTECH: OOH Amsterdam, now in its second year is looking like it will be another sellout (AdTECH: OOH – New York was sold out and our largest ever AdTECH event in Sydney, a few months ago in September attracted 135 attendees),
As in 2018 the event takes place at the B.1 Amsterdam, Johan Huizingalaan 763a, 1066 VH Amsterdam, which is only a short distance from Amsterdam's Schiphol Airport (approximate 25 mins by train) and a similar distance from Amsterdam Centraal train station (approximately 30 minutes). For anyone who wants to attend this event in a single day (it is of course easy to fly or catch a train to Amsterdam) our 10 o' clock start makes that possible.
The event is chaired by OUTFRONT Media's Stephanie Gutnik and the keynote will be given by Ocean Netherlands' Managing Director Meindert van den Heuvel.
Entitled "It's A Small Step", Meindert will start off by giving a quick overview of Dutch digital progress and then discuss why, what seems like such a small step for publishers on their digital and programmatic approach, is actually a giant step for advertisers and creative agencies.
We are continually refining our AdTECH conferences and unlike many other event organisers we seem to understand that the audience really benefits from case studies and hearing from brands and agencies directly. Look at any of our agendas this year and you will notice that this pivot to buy-side is very noticeable – as is a movement away from having far too many panels.
Amsterdam will feature AH Media Services' Director Advertising Anne van Haeften discussing retailer Albert Heijn and Facebook's Regional Measurement Partner Ségolène Braun presenting 'Gen Z and Millennials Through a Hybrid OOH and Mobile Approach' – a presentation that was one of our audience's favourites when it was done at AdTECH: OOH – New York in October.
Other speakers include ORB's Geoff Fitzpatrick, Jaduda's Katy Schädlich, Mediacom's Arran Javed, DPAA's Barry Frey, Verizon Media's Alice Beecroft, Danone's Beatrice Lindvall, Havas Group's Marco Rigon, Diversiffi Media's Fiona FitzGibbon, Vistar Media's Dominic Dunne, Jost von Brandis Service Agency's Eric Dufour, Splicky's Sven Ruppert, OutMoove's Mendel Looije and Kinetic Worldwide's Programmatic Lead Aaron Spijkers and Hivestack's Andreas Soupliotis.
The event takes place on Wednesday December 4, 2019 and registration can be found here.
Thanks to our sponsors Broadsign, Hivestack, Signkick and Vistar Media.