Leading Out of Home media owner Clear Channel UK have announced their ambitious plans for the year ahead and beyond, committing to a substantial nationwide programme of investment, along with a focus on social and environmental projects, embedded as part of every format.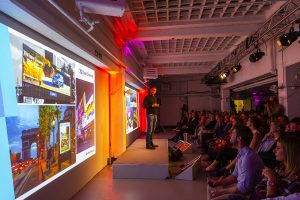 [1]Speaking at the music-themed event, hosted at The Vinyl Factory Soho, CEO Justin Cochrane said, "Every A-Side must be accompanied by its B-Side – the goal is to accompany every new product we install with a social or environmental project or feature, benefitting the local community. Nothing token. No greenwashing."
Adshel Live, the UK's largest digital Out of Home network, will take a giant leap forward in the coming months, growing by 50% before the end of 2020, and providing a wealth of new flexible and creative opportunities for brands.
The leading digital 6-sheet format will bring further benefit to the public thanks to the redesigned Landmark bus shelter, also showcased at the event. The adaptable design will feature options including a living roof, solar power, recycled materials and low-energy lighting.
Joint Managing Director Richard Bon, announced Billboard Live, Clear Channel's new national digital-48 sheet proposition, aimed at revitalising the billboard market with additional digital creativity, flexible buying and accountable reporting. He said, "What we did for Adshel and the 6-sheet, we're doing for the paper billboard. We will be building a digital network, delivered at a national scale. Out of Home is oldest advertising medium, but the one with brightest future."
Right at the heart of the Billboard Live roll-out plan is the introduction of vertical meadows, installed directly to every newly built large-format screen. Each will include hundreds of plants, enhancing bio-diversity within its community, contributing towards reducing air-pollution and aesthetically improving its surroundings.
Bolstering the vision is the development of a long-term partnership with Central Saint Martins, UAL [2]. The leading creative university will be setting a number of briefs to students to identify and solve social and environmental challenges that face the world today, and come up with designs that Clear Channel could bring to life.
Joint Managing Director Will Ramage told us "Our work with Central Saint Martins turns our product development process on its head, thinking about social and environmental good first, rather than building it around or bolting it on to our media proposition."
Central Saint Martins, UAL is globally renowned for the creative energy of its students, staff and graduates. Its educational reputation across art, design and performance is demonstrated by the ever-growing achievements of its alumni who include Grace Wales Bonner, Emilia Clarke, Antony Gormley, Craig Green, Charles Jeffrey, Jean Jullien, Ib Kamara, Helen Marten, Stella McCartney, M.I.A., Morag Myerscough, Rungano Nyongi, Laure Prouvost, Richard Quinn, Yinka Shonibare among many others.
Central Saint Martins is part of University of the Arts London (UAL), an international centre for innovative teaching and research in arts, design, fashion, communication and the performing arts. The University is made up of six Colleges: Camberwell College of Arts, Central Saint Martins, Chelsea College of Arts, London College of Communication, London College of Fashion and Wimbledon College of Arts.