Daktronics (NASDAQ-DAKT) has partnered with IDEAS by GUL Ahmed Textiles, one of the oldest and largest textile mills in Pakistan, and Quadra Technologies to deliver a curved, 3.9-millimeter LED display. The installation took place in 2019 and the project has been shortlisted as a finalist for AV Awards Retail Project of the Year.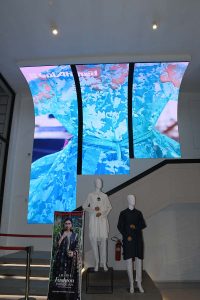 Khurram Khaliq Khan, CEO and director of business development for Quadra Technologies told us "IDEAS' vision is to become the leading retailer in fashion fabrics and viewed as a state-of-the-art, modernized fashion store in Pakistan. They want to bring modern technology along with the integration of the online shopping experience and digital integration of their shops. For this project, Quadra Technologies completed the structure manufacturing and installation, and Daktronics provided the step-by-step design and state-of-the-art engineering to make it all possible."
The display combination measures 5.5 meters high by 5 meters wide and consists of three individual banners that start on the wall near a staircase and curve up onto the ceiling. Each individual display starts at a different height matching the staircase to share branding and retail messaging.
Nadeem Rehmani, COO of Gul Ahmed Ideas said "The screen is amazing. It has completely changed the outlook and customer experience at our store. Excellent product from Daktronics! It has been wonderful to work with the team at IDEAS," said Mathieu Verbraken, Daktronics regional manager. "Being new to digital, they have a refreshing approach to design. Our technology allowed for the implementation of a truly incredible display combination without compromising their ideas. We thank them for their trust in Daktronics. Special recognition also to Quadra Technologies, our loyal partner in Pakistan, without whom we wouldn't have had the opportunity to realize this project."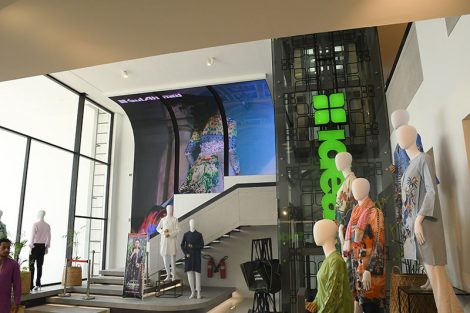 The content is either shown individually on each banner or spans the whole display combination, considering the negative space between the displays. Each features a tight 3.9-millimeter line spacing for closer viewing distances as patrons move past the display at the IDEAS retail shopping location.