As part of JCDecaux's UK's expansion of its Digital 6-sheet street furniture network across 13 cities, a new digital phone kiosk that could help save lives is coming to the UK's high streets. JCDecaux UK has designed an innovative range of street furniture that combines the latest in digital advertising technology with a range of free public services, including an automated external defibrillator that can be used by the public to save lives.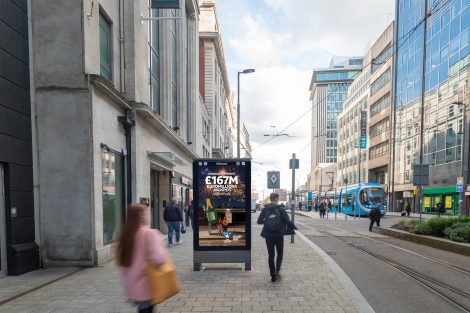 Phil Drye, Chief Commercial Development Officer, at JCDecaux UK said, "JCDecaux has worked closely with The Community Heartbeat Trust charity to bring these defibrillators to some of the UK's busiest streets – providing a valuable public service that could save lives when time is of the essence. This innovative street furniture is located in the busiest locations where people are out shopping, commuting and socialising, benefiting residents and tourists as well as local and national brands. As this initiative shows, Outdoor advertising can play a key part in communities through the provision of public amenities funded by advertising including this innovative street furniture with defibrillators, free payphone and wayfinding information."
Advertisers and the public will benefit as JCDecaux UK introduces its first street furniture digital advertising into seven new cities with the roll-out of 50 digital phone kiosks with defibrillators into Birmingham, Cardiff, Glasgow, Manchester, Portsmouth, Southampton and Stoke-on-Trent.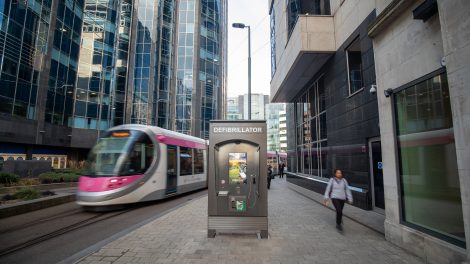 The new screens will form part of a newly expanded national Digital 6-sheet street furniture advertising network, bringing the national digital street furniture reach to 13 cities with 1,044 Digital 6-sheet screens UK-wide, including London and Reading.
The phone kiosks will also carry an 86″, high-definition Digital 6-sheet advertising display, enabling national advertisers and local businesses to keep the public up-to-date with relevant and timely brand messaging.
In addition to the defibrillator, the new phone kiosks will include a range of public services including an accessible payphone with free calls to landlines, Wi-Fi and USB charging stations, and a 36″, interactive touch screen with wayfinding and council information – all funded by advertising.
Martin Fagan, National Secretary, The Community Heartbeat Trust [1] charity said "We know that early defibrillation can triple a victim's chance of survival, so we are delighted to work with JCDecaux UK to bring defibrillators to city centres across the UK. Cardiac arrest can happen to anyone at any time and after calling 999 and doing CPR, using a defibrillator offers the best chance to save a life. These defibrillators are straightforward to use, with clear voice instruction prompts that guide the user through the process – so no special training is needed. We would urge everyone to be prepared, be ready and save a life."
A defibrillator is the short name given to an Automated External Defibrillator (AED). An AED is used to administer an electric shock to a person who is having a sudden cardiac arrest (SCA). The electric shock restores the heart to a normal rhythm allowing it to once again effectively pump blood around the body. AEDs are designed to allow non-medical personnel to save lives. Two pads, which are connected to the AED, are placed on the patient's chest and then the AED determines if a shock is required to save the victim. If a shock is required, the AED uses voice instructions to guide the user through saving the patient's life.